Back to top
DBT for Dummies (Paperback)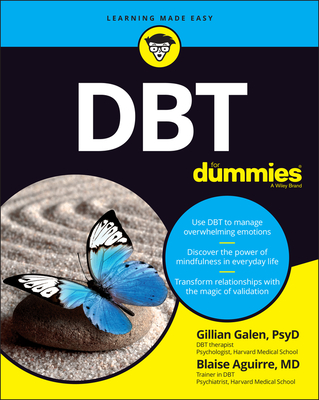 $29.99

Usually Ships in 1-5 Days
Description
---
Keep calm, be skillful--and take control
Dialectical Behavior Therapy (DBT) is one of the most popular--and most effective--treatments for mental health conditions that result from out-of-control emotions. Combining elements of Cognitive Behavior Therapy with Eastern mindfulness practice, DBT was initially used as a powerful treatment to address the suffering associated with borderline personality disorder. It has since proven to have positive effects on many other mental health conditions and is frequently found in non-clinical settings, such as schools. Whether you struggle with depression, anger, phobias, disordered eating, or want to have a better understanding of emotions and how to focus and calm your mind, DBT practice serves the needs of those facing anything from regular life challenges to severe psychological distress.
Written in a no-jargon, friendly style by two of Harvard Medical School's finest, DBT For Dummies shows how DBT can teach new ways not just to reverse, but to actively take control of self-destructive behaviors and negative thought patterns, allowing you to transform a life of struggle into one full of promise and meaning. Used properly and persistently, the skills and strategies in this book will change your life: when you can better regulate emotions, interact effectively with people, deal with stressful situations, and use mindfulness on a daily basis, it's easier to appreciate what's good in yourself and the world, and then act accordingly. In reading this book, you will:
Understand DBT theory
Learn more adaptive ways to control your emotions
Improve the quality of your relationships
Deal better with uncertainty
Many of life's problems are not insurmountable even if they appear to be. Life can get better, if you are willing to live it differently. Get DBT For Dummies and discover the proven methods that will let you take back control--and build a brighter, more capable, and promising future
About the Author
---
Gillian Galen, PsyD, is an instructor of psychology at Harvard Medical School and the Program Director of the 3East Girls Residential DBT Treatment Program at McLean Hospital in Belmont, Massachusetts. Blaise Aguirre, MD, is the Medical Director of 3East, a DBT continuum of care at McLean Hospital in Belmont Massachusetts, and a trainer in dialectical behavior therapy.