Back to top
A Net for Small Fishes (Hardcover)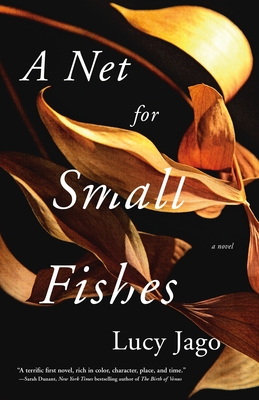 $26.99

Usually Ships in 1-5 Days
Description
---
"A bravura historical debut . . . a gloriously immersive escape." —Guardian

Wolf Hall meets The Favourite in Lucy Jago's A Net For Small Fishes, a gripping dark novel based on the true scandal of two women determined to create their own fates in the Jacobean court.

With Frankie, I could have the life I had always wanted . . . and with me she could forge something more satisfying from her own . . .

When Frances Howard, beautiful but unhappy wife of the Earl of Essex, meets the talented Anne Turner, the two strike up an unlikely, yet powerful, friendship. Frances makes Anne her confidante, sweeping her into a glamorous and extravagant world, riven with bitter rivalry.

As the women grow closer, each hopes to change her circumstances. Frances is trapped in a miserable marriage while loving another, and newly-widowed Anne struggles to keep herself and her six children alive as she waits for a promised proposal. A desperate plan to change their fortunes is hatched. But navigating the Jacobean court is a dangerous game and one misstep could cost them everything.
About the Author
---
Lucy Jago is an award-winning writer of fiction and non-fiction and Fellow of the Royal Literary Fund. Her first book, The Northern Lights, won the National Biography prize and has been translated into eight languages. She was awarded a Double First Class Honours Degree from King's College, University of Cambridge, and a master's degree from the Courtauld Institute, London. She lives in Somerset.
Praise For…
---
"A terrific first novel, rich in colour, character, place, and time. If you like your history spiced with sex, scandal, and the sweet sensibilities of female friendship, then this is for you."
—Sarah Dunant, New York Times bestselling author of The Birth of Venus

"The Jacobean Era comes to life in this sumptuous story of a scandal that rocked the times. At the heart of this glorious novel is a friendship between Anne Turner, a gentlewoman and Frances Howard, a privileged woman of the upper class who is stuck in an abusive marriage with no intention of staying in it. Though they come from different social classes, they cleave together to change the course of their lives through tragedy and loss to find happiness. Romance, intrigue, beauty, and truth—it's all here as the women determine their own fate in a time when choice was impossible. Lucy Jago writes as though she was there—this author is a wonder."
—Adriana Trigiani, New York Times bestselling author of The Shoemaker's Wife

"Based on a true story, A Net for Small Fishes is a magnificently accomplished piece of historical fiction set in Jacobean London. This stunning novel of two brave and independent women doing what they must to survive in a man's world is ripe with scandal and gossip, lust and betrayal, corruption and venality—thoroughly modern resonances, in other words. Lucy Jago marshals all this with consummate skill and wit, but she also writes with tremendous heart. The result is a thoroughly entertaining and deeply satisfying read. I can't recommend it highly enough."
—Alex George, author of The Paris Hours

"A Net for Small Fishes is strung so tight with suspense that I read with my heart in my throat, watching as Anne and Frankie meet the myriad, shifting treacheries of their lives with an awe-inspiring largeness of spirit, loyalty, and love. This novel immersed me so fully in another world that I seemed to breathe its air, walk its halls—yet for me its greatest achievement lies in the vivid life it gives these women, who are forces of nature but also fully human, and who dare to try to carve out a space in their world that can fit them. Their story is spellbinding."
—Clare Beams, author of The Illness Lesson

"Brilliant . . . Jago's striking depictions of bearbaiting and court mourning, wedding breakfasts and adulterous trysts capture both the brutality and the refinement of Jacobean London. Anne's shrewd narration grounds the novel's explosive drama even as she slides toward mortal danger one apparently logical choice at a time. It adds up to a remarkable exploration of the power, limits, and price of women's friendship. This is a sparkling achievement."
—Publishers Weekly, starred review

"Jago presents a realistic and absorbing tale based on historical events, convincingly portraying the Jacobean period and personal relationships during that time between husband and wife, lovers, and female friends. Her characterization is rock-solid, and Anne's voice resonates in this drama about how life choices, what is permissible and what isn't, especially for women, form a slippery slope that can end at the gallows."
—Booklist, starred review

"Sumptuous . . . If you're feeling bereft after finishing The Mirror and the Light, let Jago transport you back to the Jacobean court."
—Telegraph

"Bravura historical debut . . . Jago keenly conveys the peril of being a woman of any class in the 17th century . . . Like all the best historical fiction, A Net for Small Fishes is a gloriously immersive escape from present times, but it's not escapism."
—Guardian

"A superb exploration of female agency, sexuality and class . . . A scintillating novel that plunges you head-first into a darkly compelling chapter of British history."
—Observer

"Riveting . . . In a narrative that brims over with colour and invention, Jago summons up Jacobean London with enormous persuasiveness."
—Sunday Times, Book of the Month

"A powerful take on a fascinating piece of history."
—The Times (UK)

"Rich in intrigue and incident, with a cast of vividly drawn characters and a wealth of detail on every atmospheric page, this is a fabulously engaging read."
—Daily Mail

"Will bring wit, wisdom, joy and comfort to your reading pile . . . There's no messing about in Lucy Jago's A Net For Small Fishes. From the first chapter you're plunged into the dark intrigues, violence, vying for position and cruelty of the 17th century Jacobean court as society beauty Frances Howard meets Anne Turner, whose way with bodices, stockings and eyelashes is unequalled."
—Stylist (UK)

"A sensuous evocation of 17th-century noble shenanigans. Jago offers a timely lens through which to reconsider power dynamics in Jacobean England . . . Seamless and stylish . . . Set in 1609, 69 years after the Mantel trilogy concludes, so those mourning Cromwell may find much to scintillate here."
—The Irish Times

"A magnificent reimagining of a scandal in the Jacobean court . . . Masques, machinations and murder ensue, as well as affairs, gorgeously described clothes, and a dangerous friendship."
—Tatler

"Dazzling."
—Sunday Independent

"The Thelma and Louise of the seventeenth century: two mismatched heroines, two grittily textured lives, an outrageous plot (true!), sex, politics, and a gut-wrenching ending."
—Lawrence Norfolk, author of John Saturnall's Feast

"Full of colour, intrigue, and historical characters we can relate to . . . Jago has a great flair for the sensuous image and evokes the heady mix of gaudy glamour and grime that characterises the era with a distinctive, dense poetry. Historical fiction at its scintillating best and most filmic."
—Susan Elderkin, author of Sunset Over Chocolate Mountains

"A fabulous book. Frankie and Anne's world is not just brilliantly evoked but brilliantly sustained. Lucy Jago doesn't make a single false step. And it's exciting!"
—Andrew Miller, author of Pure