Back to top
The Meth Lunches: Food and Longing in an American City (Hardcover)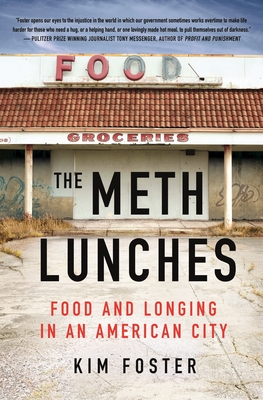 $30.00

Usually Ships in 1-5 Days
Description
---
James Beard Award–winning author Kim Foster reveals a new portrait of hunger and humanity in America.

Food is a conduit for connection; we envision smiling families gathered around a table—eating, happy, content. But what happens when poverty, mental illness, homelessness, and addiction claim a seat at that table? In The Meth Lunches, Kim Foster peers behind the polished visions of perfectly curated dinners and charming families to reveal the complex reality when poverty and food intersect.

Whether it's heirloom vegetables or a block of neon-yellow government cheese, food is both a basic necessity and a nuanced litmus test: what and how we eat reflects our communities, our cultures, and our place in the world. The Meth Lunches gives a glimpse into the lives of people living in Foster's Las Vegas community—the grocery store cashier who feels safer surrounded by food after surviving a childhood of hunger; the inmate baking a birthday cake with coffee creamer and Sprite; the unhoused woman growing scallions in the slice of sunlight on her passenger seat. This is what food looks like in the lives of real people.

The Meth Lunches reveals stories of dysfunction intertwined with hope, of the insurmountable obstacles and fierce determination all playing out on the plates of ordinary Americans. It's a bold invitation to pull up a chair and reconsider our responsibilities to the most vulnerable among us. Welcome to the table.
About the Author
---
Kim Foster is a James Beard Award-winning food writer. She writes about people at the intersection of food and mental illness, family separation, poverty, addiction, trauma, and incarceration. You can read her work on her weekly newsletter, on her website, and on Twitter and Instagram. She lives in Las Vegas, Nevada with her husband, David, their four kids, and many animals.
Praise For…
---
"Kim Foster has written a deeply moving account of people and their food. Not the usual suspects, but people who have been traditionally left out of the conversation...These stories are the invisible ones, and Foster tells them with empathy, boldness and connection. A must read for anyone interested in food, cooking and how people really eat in our communities."
—Andrew Zimmern, chef, and host of Wild Game Kitchen

"This book is a wake-up call for anyone who thinks of poverty merely in terms of welfare or the homeless…. If you're feeling frozen by the magnitude of the problem of poverty, Foster's clearsighted vision will help you tap your inner resources. As she says,' We can do better.'"
—Catherine Gildiner, NYT bestselling author of Good Morning, Monster

"Foster writes sensitively, with percussive and observant prose, portraying herself as well meaning yet also conscious of her status . . . [an] engaging, urgent report from the front lines of social decline." —Kirkus Reviews

"[A] searing debut memoir . . . this glimpse of down-and-out America transfixes." —Publishers Weekly

"Foster unflinchingly lays bare the reality of poverty and hunger in America, combining statistics with the true life stories of people in her own sphere . . . . Her meditations on community and caring for others encourage readers to consider the building of a world where everyone has a place at a full, loving table." —Shelf Awareness

"How can we know the people at our table and ourselves if we don't go to the dark places and look around?" Kim Foster asks in The Meth Lunches. Through her, we get to know some of the many people she has welcomed to her table as she goes to those dark places and really looks around; more important, in getting to know each of these characters, we get to know the very systems that contain, govern, impede and destroy them…This isn't food writing as comfort; this is food writing as an urgent, riveting, beautifully composed, and necessarily eye-opening." —Charlotte Druckman, editor and creator of Women on Food and founder of Food52's Tournament of Cookbooks

"Kim Foster drives her culinary food truck to the intersection of poverty and criminal justice and introduces readers to the world around them that many never see. With a seat at her kitchen table, she opens our eyes to the injustice in the world in which our government sometimes works overtime to make life harder for those who need a hug, or a helping hand, or one lovingly made hot meal, to pull themselves out of darkness."
— Pulitzer Prize winning journalist Tony Messenger, author of Profit and Punishment