Back to top
A True Account: Hannah Masury's Sojourn Amongst the Pyrates, Written by Herself (Hardcover)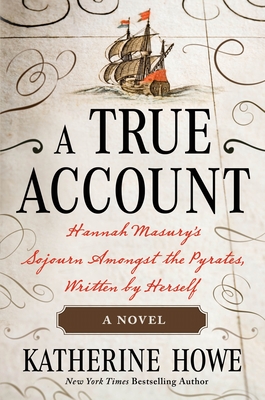 $28.99

Usually Ships in 1-5 Days
December 2023 Indie Next List
---
"This book has everything I love in a good historical fiction novel: fierce female protagonists, pirates, smashing the colonial patriarchy, twentieth-century academia. It will make for a great book club selection — I can't wait to share it!"
— Sarah Danforth, Reads & Company, Phoenixville, PA
Description
---
From New York Times bestselling author Katherine Howe comes a daring first-hand account of one young woman's unbelievable adventure as one of the most terrifying sea rovers of all time.

In Boston, as the Golden Age of Piracy comes to a bloody close, Hannah Masury – bound out to service at a waterfront inn since childhood – is ready to take her life into her own hands. When a man is hanged for piracy in the town square and whispers of a treasure in the Caribbean spread, Hannah is forced to flee for her life, disguising herself as a cabin boy in the pitiless crew of the notorious pirate Edward "Ned" Low. To earn the freedom to choose a path for herself, Hannah must hunt down the treasure and change the tides.

Meanwhile, professor Marian Beresford pieces Hannah's story together in 1930, seeing her own lack of freedom reflected back at her as she watches Hannah's transformation. At the center of Hannah Masury's account, however, lies a centuries-old mystery that Marian is determined to solve, just as Hannah may have been determined to take it to her grave.

A True Account tells the unforgettable story of two women in different worlds, both shattering the rules of their own society and daring to risk everything to go out on their own account.
About the Author
---
Katherine Howe is the author of The Daughters of Temperance Hobbs and the New York Times bestsellers The Physick Book of Deliverance Dane and The House of Velvet and Glass, as well as the young adult novels Conversion and The Appearance of Annie van Sinderen. She served as editor of The Penguin Book of Witches, and her fiction has been translated into over twenty languages. Descended from three women who were tried for witchcraft in Salem, she and her family live in New England and New York City.
Praise For…
---
One of BookBub's picks for best historical fiction of Fall 2023

"A wildly adventurous, swashbuckling tale of pirates, A True Account is a fast-paced, rollicking story with an extraordinary twist. Katherine Howe breathes new life into the Golden Age of Piracy with astuteness and elaborate detail–– her characters don't just come alive but spin off the page. You will love it as much as I did."
—Anderson Cooper, New York Times bestselling author of Vanderbilt: The Rise and Fall of an American Dynasty

"A dazzlingly fun historical fiction... History buffs will appreciate the accurate inclusion of figures such as pirate William Fly and Puritan preacher Cotton Mather. Those who aren't so thrilled about history will enjoy Hannah's wry take on the happenings of the early 1700s.... a wild voyage of satisfying twists and an even more satisfying ending. The story ties threads of fact and fiction into an intricate knot that's just as enjoyable to look at as it is to untangle.
—Donna Edwards, AP

"Howe's bloody and brutal writing immerses readers in a uniquely violent but totally thrilling era."
—Alice Kemp-Habib, The Guardian

"This sweeping, ambitious novel secures Katherine Howe's place as one of today's best historical fiction writers. Combining a fast-paced, rollicking 18th-century story about a female pirate and a 20th-century mystery set in academia, Howe touches on identity, ambition, history, class, and culture. Filled with unexpected twists and turns, A True Account is a wild ride. I loved this book."
—Christina Baker Kline, #1 New York Times bestselling author of Orphan Train and The Exiles

"Katherine Howe's latest is a feast for the sea-loving senses. At times, Howe's lyrical prose is so well-crafted, it reads like poetry. This is more than just a pirate's tale: it's a story of abandoning convention in favor of self-discovery and exploring the sort of freedoms only the sea can offer. Exhilarating at times and painfully poignant at others, A True Account is an adventure tale of bygone days, yet it brings to light an enduring question, especially for women: have we the bravery to do what they say we cannot do?"
—Sarah Penner, New York Times bestselling author of The Lost Apothecary

"Katherine Howe has done it again. One of our most beloved writers of historical fiction returns with a superbly crafted page-turner rich with detail and featuring a brilliantly realized protagonist who will delight readers of every stripe. A True Account interlaces a suspenseful story of eighteenth-century piracy with a propulsive modern account of academic intrigue to wonderful effect. A bracing and dazzling adventure in every way."
—Bruce Holsinger, USA Today bestselling author of The Gifted School and A Burnable Book

"Hannah Masury's pirate tale reads like a fever dream, told in a voice so authentic and with such vivid, authoritative detail, it compels belief that this must indeed be a true account. A fiendish twist pulls its strands apart and braids them back together with the burnished patina of real historic discovery. Katherine Howe writes a story that she knows so truly, it must spring from her DNA. A True Account belongs on the shelf beside Treasure Island."
—Peter Nichols, National bestselling author of A Voyage for Madmen

"Katherine Howe richly evokes the social world of docks, ships, and seafaring outlaws, producing, in my view, one of the best 'pirate novels' ever written — even better than ones by Daniel Defoe!"
—Marcus Rediker, author of Villains of All Nations: Atlantic Pirates in the Golden Age

"Howe manages to connect the parallel stories by highlighting how her women protagonists navigate the whims of powerful men. Historical fiction fans will love this."
―Publishers Weekly

"Howe has created a suspenseful, swashbuckling adventure filled with fiendish characters and historical detail."
―Library Journal, Starred Review

"Sometimes deadly earnest, sometimes sharply funny, the novel explores how women thwarted by circumstances shape-shift to fit in."
―Kirkus