Back to top
Homestead: A Novel (Hardcover)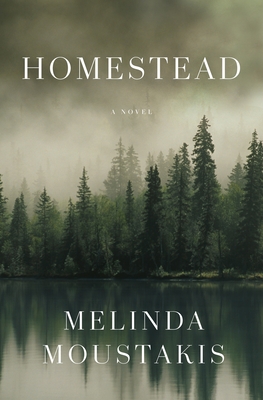 $27.99

Coming Soon - Available for Pre-Order Now
Description
---
From NATIONAL BOOK FOUNDATION 5 UNDER 35 HONOREE and FLANNERY O'CONNOR AWARD WINNER Melinda Moustakis, a debut novel set in Alaska, about the turbulent marriage of two unlikely homesteaders

"So good, so precise, so strong, and so deeply felt." —Jess Walter, #1 New York Times bestselling author

"Recommended for fans of Kristin Hannah's The Great Alone." —Booklist (starred review)

Anchorage, 1956. When Marie and Lawrence first lock eyes at the Moose Lodge, they are immediately drawn together. But when they decide to marry, days later, they are more in love with the promise of homesteading than anything. For Lawrence, his parcel of 150 acres is an opportunity to finally belong in a world that has never delivered on its promise. For Marie, the land is an escape from the empty future she sees spinning out before her, and a risky bet is better than none at all. But over the next few years, as they work the land in an attempt to secure a deed to their homestead, they must face everything they don't know about each other. As the Territory of Alaska moves toward statehood and inexorable change, can Marie and Lawrence create something new, or will they break apart trying?

Immersive and wild-hearted, joyfully alive to both the intimate and the elemental, Homestead is an unflinching portrait of a new state and of the hard-fought, hard-bitten work of making a family.
About the Author
---
Melinda Moustakis was born in Fairbanks, Alaska, and grew up in California. Her story collection, Bear Down, Bear North: Alaska Stories, won the Flannery O'Connor Award, the Maurice Prize, and was a National Book Foundation 5 Under 35 selection. Her work has appeared in American Short Fiction, Alaska Quarterly Review, Granta, Kenyon Review, and elsewhere, and has been awarded an O. Henry Prize. She is the recipient of the Hodder Fellowship from Princeton University, the NEA Literature Fellowship, the Kenyon Review Fellowship, and the Rona Jaffe Cullman Fellowship at the New York Public Library. Homestead is her debut novel.
Praise For…
---
"Absolutely remarkable…The writing is sublime, and the reader is instantly transported to this dangerous land. But the human struggles are where this book really shines, as Marie and Lawrence battle loneliness, numbing cold, loss, and the one big lie that threatens to destroy everything."
—Historical Novel Society

"Inspired by Moustakis' own family history and set during the Alaskan Territory's bid for statehood, this stunning debut novel considers what it truly means to own land. Recommended for fans of Kristin Hannah's The Great Alone."
—Booklist (starred review)

"Moustakis shines in her debut…The wondrous descriptions of the back-breaking labor involved in clearing and farming the land, and of the region's vast beauty, will make readers feel like they're there. This evocative, well-drawn account of Alaska's American settlers is so convincing it ought to come with a pair of mittens."
—Publishers Weekly (starred review)

"Moustakis excels at conjuring place: You can feel the wind, taste the homemade cherry wine that fuels the couple's labors, and sense the chill loneliness that is their isolated lives…Nuanced and suffused with poetry, Moustakis' novel paints an indelible portrait of a couple finding their way in the wilderness. An atmospheric debut about the savagery of nature, learning to trust, and the wilds that exist within all of us."
—Kirkus

"Moustakis's writing is so good, so precise, so strong, and so deeply felt that it immediately creates a sense of time and place, and builds a quiet suspense about Marie and taciturn Lawrence. Homestead manages to be laconic and wry and visceral and primal and almost subversive in its depiction of marriage as a lovely, profound hardship."
—Jess Walter, #1 New York Times bestselling author of The Cold Millions and Beautiful Ruins

"Moustakis is a writer of singular beauty, whether turning her attention to the Alaskan landscape or the intimate landscape of a marriage. Homestead is a luminous consideration of what it means for something or someone to belong to someone else, and of how fraught and tentative the labor of longing and belonging can be."
—Danielle Evans, author of The Office of Historical Corrections

"I loved this book. The marriage is feral, the child-rearing frost-bitten, the betrayals and redemptions jagged as mountain peaks. In blazing, poetic prose, Moustakis brings 1950s Alaska roaring to life."
—Kawai Strong Washburn, author of Sharks in the Time of Saviors

"To read Homestead is to be swept into the Alaskan wilderness of an early marriage. Both intimate and epic, this novel questions the very meaning of origin and ownership. Moustakis writes with the hunger and heat of a pistol, the coolness of cherry wine and vanilla snow. A gorgeous feat of storytelling."
—Rachel Swearingen, author of How to Walk on Water

"Moustakis's evocation of place is breathtaking: reader, I doubt you will be able to finish this novel without falling in love with her Alaska, too. With Annie Proulx's precision of detail and Ron Rash's nuanced characterization, Moustakis's debut marks a major literary achievement."
—Nick White, author of How to Survive a Summer

"Part fever dream, part wilderness adventure, part family saga, in prose both elegant and resonant, Homestead tells of a broken, bitter man and an impulsive girl who battle it out to stake their claim, not on each other after all, but on 150 acres of unproven and break-your-heart-beautiful land in an Alaska on the verge of statehood."
—Pam Houston, author of Deep Creek: Finding Hope in the High Country

"With haunting clarity and lyrical grace, Moustakis harnesses the power, the seductive beauty, and the divine treachery of the natural world to tell an epic story of survival and restless longing. Moustakis is a writer whose crystalline prose dazzles on every page. Homestead is an absolute triumph!"
—Amber Dermont, New York Times bestselling author of The Starboard Sea

"This book casts a spell. A quiet, immersive, and gorgeously written exploration of love, war, guilt, and forgiveness that asks how well one person can ever truly know another."
—Ash Davidson, author of Damnation Spring

"Homestead ardently depicts a fraught and complicated moment in history through the most intimate of lenses: that of a young marriage built on uncertain ground. Moustakis has given us—in sentences as beautiful and brutal as the landscapes they describe—a haunting portrait of the terrain of the heart."
—Jennine Capó Crucet, author of Make Your Home Among Strangers