Back to top
The Iliad (Hardcover)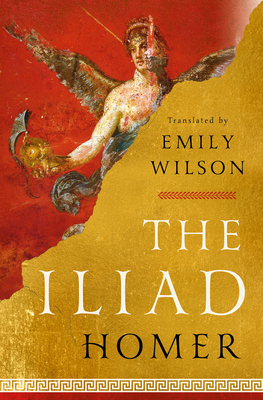 $39.95

Usually Ships in 1-5 Days
Description
---
One of The New York Times 100 Notable Books of 2023 • A Washington Post Best Book of the Year 2023 • One of Atlantic's Best Books of 2023 • One of Time's 100 Must-Read Books of 2023 • One of New Statesman's 2023 Books of the Year • One of Electric Literature's Best Poetry Collections of 2023



The greatest literary landmark of antiquity masterfully rendered by the most celebrated translator of our time.
When Emily Wilson's translation of The Odyssey appeared in 2017—revealing the ancient poem in a contemporary idiom that was "fresh, unpretentious and lean" (Madeline Miller, Washington Post)—critics lauded it as "a revelation" (Susan Chira, New York Times) and "a cultural landmark" (Charlotte Higgins, Guardian) that would forever change how Homer is read in English. Now Wilson has returned with an equally revelatory translation of Homer's other great epic—the most revered war poem of all time.
The Iliad roars with the clamor of arms, the bellowing boasts of victors, the fury and grief of loss, and the anguished cries of dying men. It sings, too, of the sublime magnitude of the world—the fierce beauty of nature and the gods' grand schemes beyond the ken of mortals. In Wilson's hands, this thrilling, magical, and often horrifying tale now gallops at a pace befitting its legendary battle scenes, in crisp but resonant language that evokes the poem's deep pathos and reveals palpably real, even "complicated," characters—both human and divine.
The culmination of a decade of intense engagement with antiquity's most surpassingly beautiful and emotionally complex poetry, Wilson's Iliad now gives us a complete Homer for our generation.
About the Author
---
Emily Wilson is a professor of classical studies at the University of Pennsylvania. She has been named a Fellow of the American Academy in Rome in Renaissance and early modern scholarship, a MacArthur Fellow, and a Guggenheim Fellow. In addition to Homer's Iliad and Odyssey, she has also published translations of Sophocles, Euripides, and Seneca. She lives in Philadelphia.
Praise For…
---
Emily Wilson's translation of the Iliad brings Homer's great war story to rousing new life….propulsive….buoyant and expressive.

— Natalie Haynes - New York Times Book Review

Readable, relevant and from the heart, this is the Iliad we have all been waiting for, whether we knew it or not.

— Naoíse Mac Sweeney - Washington Post

Masterful…A bloody tale of ancient war and grief comes to vibrant life in modern-day English. Wilson has again presented a Homer that sings.
— Kirkus Reviews (starred review)