Back to top
How the Talmud Can Change Your Life: Surprisingly Modern Advice from a Very Old Book (Hardcover)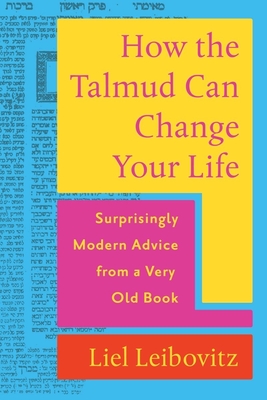 $30.00

Usually Ships in 1-5 Days
Description
---
A witty and wide-ranging exploration of a book that has perplexed and delighted people for centuries: the Talmud.
For numerous centuries, the Talmud—an extraordinary work of Jewish ethics, law, and tradition—has compelled readers to grapple with how to live a good life. Full of folk legends, bawdy tales, and rabbinical repartee, it is inspiring, demanding, confounding, and thousands of pages long. As Liel Leibovitz enthusiastically explores the Talmud, what has sometimes been misunderstood as a dusty and arcane volume becomes humanity's first self-help book. How the Talmud Can Change Your Life contains sage advice on an unparalleled scope of topics, which includes communicating with your partner, dealing with grief, and being a friend.
Leibovitz guides readers through the sprawling text with all its humor, rich insights, compulsively readable stories, and multilayered conversations. Contemporary discussions framed by Talmudic philosophy and psychology draw on subjects ranging from Weight Watchers and the Dewey decimal system to the lives of Billie Holiday and C. S. Lewis. Chapters focus on fundamental human experiences—the mind-body problem, the power of community, the challenges of love—to illuminate how the Talmud speaks to our daily existence. As Leibovitz explores some of life's greatest questions, he also delivers a concise history of the Talmud itself, explaining the process of its lengthy compilation and organization.
With infectious passion and candor, Leibovitz brilliantly displays how the Talmud's wisdom reverberates for the modern age and how it can, indeed, change your life.
About the Author
---
Liel Leibovitz is host of Tablet's daily Talmud podcast Take One and cohost of the Unorthodox podcast. Author of A Broken Hallelujah and Stan Lee and coauthor of The Newish Jewish Encyclopedia, he lives in New York City.
Praise For…
---
[A] stellar outing…Meticulously analyzed and surprisingly accessible.
— Publishers Weekly (starred review)

An erudite and accessible examination of a baffling work.
— Kirkus Reviews

It may take about seven years to read the Talmud, but I read Liel Leibovitz's book in one night, because I could not put it down. It's so good. Such nachas I have (as my ancestors would say). With wisdom and humor, Liel shows us why this ancient book has startling relevance to our lives today, unpacking lessons about everything from work to relationships to, yes, bodily functions.
— A.J. Jacobs, author of The Year of Living Bliblically

What D. H. Lawrence called 'the one bright book of life' was really the Talmud, as he would have known if he had read Liel Leibovitz's inspired and inspiring volume, which is itself alive with wisdom, humor, and the generous lightening energy that illuminates the world without setting it on fire.
— Jonathan Rosen, author of Best Minds: A Story of Friendship, Madness, and the Tragedy of Good Intentions

According to Leonard Cohen, the Talmud is 'a manual for living with defeat.' Liel Leibovitz, a biographer of Cohen, shows us—in magnificent, hair-splitting detail—how that works in practice. With much learning, unfailing insight, and storytelling skill, Leibovitz unveils a fascinating world of ancient sages and colorful rabbis, of sinners and saints, of wisdom found and lost and then found again. Read this book. You may realize that you have been a Talmudist all your life without knowing it. Or else that you want to be one for the rest of your life.
— Costica Bradatan, author of In Praise of Failure: Four Lessons in Humility