Back to top
The Upside-Down World: Meetings with the Dutch Masters (Hardcover)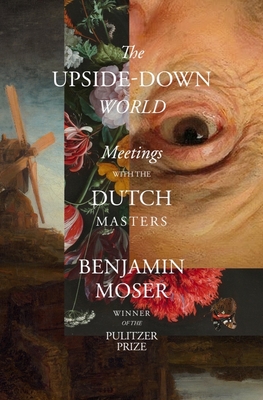 $39.95

Usually Ships in 1-5 Days
Description
---
A Washington Post Notable Book of 2023



Plunged into a strange land at twenty-five, Benjamin Moser began an obsessive, decades-long study of the Dutch Masters to set his world right again.
Arriving as a young writer in an ancient Dutch town, Benjamin Moser found himself visiting—casually at first, and then more and more obsessively—the country's great museums. Inside these old buildings, he discovered the remains of the Dutch Golden Age and began to unearth the strange, inspiring, and terrifying stories of the artists who gave shape to one of the most luminous moments in the history of human creativity.
Beyond the sainted Rembrandt—who harbored a startling darkness—and the mysterious Vermeer, whose true subject, it turned out, was lurking in plain sight, Moser got to know a whole galaxy of geniuses: the doomed virtuoso Carel Fabritius, the anguished wunderkind Jan Lievens, the deaf prodigy Hendrik Avercamp. And through their artwork, he got to know their country, too: from the translucent churches of Pieter Saenredam to Paulus Potter's muddy barnyards, and from Pieter de Hooch's cozy hearths to Jacob van Ruisdael's tragic trees.
Year after year, as he tried to make a life for himself in the Netherlands, Moser found friends among these centuries-dead artists. And he found that they, too, were struggling with the same questions that he was. Why do we make art? What even is art, anyway—and what is an artist? What does it mean to succeed as an artist, and what does it mean to fail? Is art a consolation—or a mortal danger?
The Upside-Down World is an invitation to ask these questions, and to turn them on their heads: to look, and then to look again. This is Holland and its great artists as we've never seen them before. And it's a sumptuously illustrated, highly personal coming-of-age-story, twenty years in the making: a revealing self-portrait by one of the most acclaimed writers of his generation.
About the Author
---
Benjamin Moser was born in Houston, Texas, and lives in Utrecht. He is the author of Why This World: A Biography of Clarice Lispector, and for Sontag: Her Life and Work, he won the Pulitzer Prize.
Praise For…
---
Conversational and congenial, essayistic and elevating . . . by the book's end, I found that Moser's intimate asides had accumulated into something affecting and open-ended . . . much more than an elegant guide to Dutch painters.
— Sebastian Smee - Washington Post

In a luminous, splendidly illustrated melding of art history and memoir, Pulitzer Prize–winning biographer, translator, and essayist Moser pays homage to 17th-century artists whose works he discovered when he first settled in the Netherlands 20 years ago. [Moser] sets artists' lives in the context of violence and upheaval, as well as personal loss, poverty, grief, and longing. In Vermeer, he sees "a mind seeking." In writing about art, Moser admits that he, too, was a mind seeking: to understand his identity as a writer and as a foreigner in a new culture.... A graceful meditation on art.
— Kirkus Reviews, starred review

The most agreeable of companions in his encompassing yet highly personal tour of the Golden Age of Dutch painting, Benjamin Moser delivers fresh insights that will delight the expert and the casual museum-goer alike, in prose as precise and intimate as a Vermeer—and as luminous.
— Jim Holt, author of Why Does the World Exist?

Benjamin Moser's fascinating study of Dutch art and artists is more than the sum of its extraordinary parts. Part memoir, part critical and historical analysis, the book also offers a superb commentary—one of the best I've ever read—on what it means to be displaced in a never entirely whole world, and what it means to see between the cracks. I learned so much reading this fine book, and so will you.
— Hilton Als, author of White Girls

I always dreamed of living in the rooms of my favorite paintings. Finally! A book that animates these rooms, their light, the people in them—that evokes their character and emotions and places them in the context of their culture. Profound and intensely alive, Benjamin Moser's writing describes these artists as living beings and brings to life their works of art, connecting his own life as a writer to deep insights into the meaning of art.
— Laurie Anderson