Back to top
The Silver Eyes: Five Nights at Freddy's (Five Nights at Freddy's Graphic Novel #1) (Five Nights at Freddy's Graphic Novels #1) (Paperback)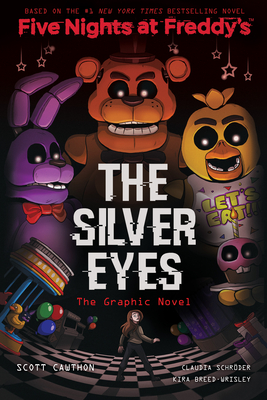 Other Books in Series
This is book number 1 in the Five Nights at Freddy's Graphic Novels series.
Description
---
Don't miss the first-ever graphic novel for Five Nights at Freddy's, an adaptation of the #1 New York Times bestselling novel The Silver Eyes illustrated by fan-favorite game artist Claudia Schröder!
Ten years after the horrific murders at Freddy Fazbear's Pizza that ripped their town apart, Charlie -- whose father owned the restaurant -- and her childhood friends reunite on the anniversary of the tragedy and find themselves at the old pizza place which had been locked up and abandoned for years. After they discover a way inside, they realize that things are not as they used to be. The four adult-sized animatronic mascots that once entertained patrons have changed. They now have a dark secret... and a murderous agenda.
Complete with new information and tense, terrifying illustrations, fans won't want to miss this graphic novel adaptation by Scott Cawthon, Kira Breed-Wrisley, and Claudia Schröder, whose stunning artwork has been featured in the games.
About the Author
---
Scott Cawthon is the author of the bestselling video game series Five Nights at Freddy's, and while he is a game designer by trade, he is first and foremost a storyteller at heart. He is a graduate of The Art Institute of Houston and lives in Texas with his family.

Claudia Schröder has drawn characters and imagined their stories since the early years of her childhood. She studied graphic design and worked later as a 2D game artist at a small game studio. In 2014 Claudia made the big step to become a self-employed artist. These days her alter ego, "Pinky Pills," is known for her work with Scott Cawthon on the Five Nights at Freddy's franchise. Claudia lives in Salzgitter, Germany.

Kira Breed-Wrisley has been writing stories since she could first pick up a pen and has no intention of stopping. She is the author of seven plays for Central New York teen theater company The Media Unit, and has developed several books with Kevin Anderson & Associates. She is a graduate of Cornell University, and lives in Brooklyn, New York.
Praise For…
---
Praise for The Silver Eyes (Five Nights at Freddy's Graphic Novel #1):
"The scares are tween and teen appropriate, culminating in a standoff worthy of viral urban legends... worth a night staying up reading by flashlight, whether you know the games or this is your first time at Freddy's." -- School Library journal
Praise for The Silver Eyes (Five Nights at Freddy's Graphic Novel #1):"The scares are tween and teen appropriate, culminating in a standoff worthy of viral urban legends... worth a night staying up reading by flashlight, whether you know the games or this is your first time at Freddy's." -- School Library journal

Praise for The Silver Eyes (Five Nights at Freddy's Graphic Novel #1):"The scares are tween and teen appropriate, culminating in a standoff worthy of viral urban legends... worth a night staying up reading by flashlight, whether you know the games or this is your first time at Freddy's." -- School Library journal