Back to top
Not That Fancy: Simple Lessons on Living, Loving, Eating, and Dusting Off Your Boots (Hardcover)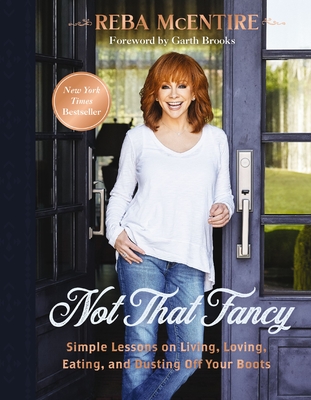 $34.99

Usually Ships in 1-5 Days
Description
---
NEW YORK TIMES BESTSELLER WALL STREET JOURNAL BESTSELLER USA TODAY BESTSELLER
The perfect Christmas gift for anyone who loves down-home recipes, the western lifestyle, heartwarming stories, and a good laugh from the Queen of Country
The best things in life are really not that fancy. This photo-driven book featuring all-things-Reba invites you to get back to the basics of life: fun, food, friends, and family. In her first book in over two decades, actress and country music legend Reba McEntire takes you behind the scenes and shares the stories, recipes, and Oklahoma-style truths that guide her life.
FROM REBA:
"To me, there's nothing better than sitting on the back porch looking out at the land that goes on for miles. A beautiful sunset and then me, just sipping on a glass of iced tea (or whiskey and Sprite) with my friends and family. I don't know what heaven's going to look like, but I hope it feels like Oklahoma. Throw in some beans and cornbread, and I'm all set.
"Okies know that the secret to a good life is to keep things simple and be thankful for what the good Lord's given you. That's what I want to get back to. Simple fun, hard work, good food, and laughing with those you love. Everything I'm doing in my life from here on out--personal or professional, doesn't matter--I'm going to have fun.
"That's what I'm sharing in this book--some simple, not-that-fancy truths I live by and a bunch of good stories, photos, and recipes that go along with them. So if you're looking to slow down, get back to basics, and have a heckuva lot of fun, I think we're going to have a good time together in these pages. Come on in, kick off your boots (or leave them on, I don't care), and learn how to bring a little bit of my downhome-inspired life into your own."
FROM THE PUBLISHER:
Not That Fancy includes:
Nearly 200 photographs from Reba's childhood, career, and personal life--many of which are straight from Reba's phone
Never-before-told stories from rodeoing with her family to pranks with Brooks & Dunn to falling in love over a plate of tater tots
Behind-the-scenes anecdotes from her music and acting career, with inspiration on how to follow your passion, trust your gut, and take a chance on yourself
More than 60 recipes of appetizers, mains, sides, desserts, and cocktails from Reba's personal kitchen, from friends and family, and from her restaurant, Reba's Place
Lighthearted lifestyle tips on how to achieve Reba's signature hairstyle, plan a down-to-earth date night, throw an effortless dinner party, and more
Not That Fancy is the perfect deluxe gift for Christmas, birthdays, Mother's Day, Father's Day, and special occasions. This keepsake book is ideal for Reba fans, country music lovers, or anyone who enjoys an easygoing western lifestyle.