Back to top
Lo Vas a Lograr: 50 Devocionales Matutinos Y Vespertinos Para Calmar Tu Mente, Aquietar Tu Corazón Y Experimentar La Sanidad Hoy (Paperback)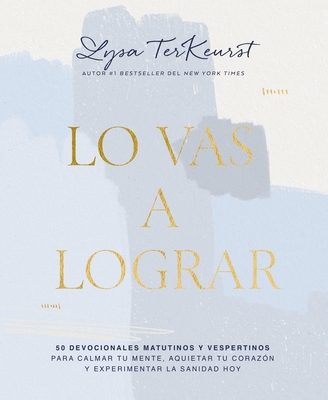 $18.99

Usually Ships in 1-5 Days
Description
---
Incorpora un nuevo ritmo para los d as en que la vida te parece demasiado dura mediante la pr ctica diaria de recibir y soltar: recibir el aliento, la instrucci n y la verdad de Dios para empezar el d a y soltar a Dios todo lo que te agobia al final de cada jornada. l te pondr en el camino de la curaci n.
En su nuevo devocional, la autora best seller del New York Times, Lysa TerKeurst, te ayuda a permanecer conectada con Dios y a seguir amando a los dem's incluso en medio de circunstancias desalentadoras, decepcionantes o incluso devastadoras. Experimenta 50 d as de devocionales matutinos y vespertinos complementados con hermosas fotograf as en color de lugares significativos en los que Lysa ha trabajado a trav's de su propia sanaci n. Cada devoci n contiene
un vers culo b blico para empezar el d a
una declaraci n de verdad para recordar a lo largo del d a
un espacio para escribir y devolver algo a Dios al final del d a
una oraci n que debes recibir antes de irte a dormir para prepararte mejor para ma ana
Sin estos componentes cruciales entretejidos en la rutina de nuestras temporadas m's duras, conectar con el Se or puede empezar muy pronto a sentirse abrumador y como un elemento m's de nuestras listas de tareas pendientes. Lysa comprende esta lucha y quiere crear un espacio sagrado donde las mujeres puedan cerrar sus d as con Dios simplemente apareciendo, empap ndose de la verdad y recordando que no est n solas en su viaje de sanaci n.
A su manera amable y sin pretensiones, Lysa te gu a a trav's de las p ginas de Lo vas a lograr, donde podr s
recibir's la verdad b blica y el nimo que necesitas cuando las situaciones hirientes te dejan agotada y sin motivaci n para pasar tiempo con Dios.
escapar's de la soledad de intentar sanar por tu cuenta con la sabidur a de confianza de una maestra de la Biblia y amiga que comprende tu dolor y quiere ayudarte a seguir adelante.
tener la seguridad de que, aunque esta temporada dif cil forme parte de tu historia, no ser toda tu historia.
Esta temporada dif cil no tiene por qu ser una poca de adormecer el dolor o de seguir por las ramas. Deja que este devocional te ayude a ser intencional y a saber que, aunque sea una poca dif cil, tambi n puede ser una poca santa.
You're Going to Make It
Incorporate a new rhythm for those days when life feels too hard through the daily practice of receiving and releasing--receiving God's encouragement, instruction, and truth to start your day and releasing to God all that's weighing you down at the end of each day. He'll set you on a path toward healing.
In her newest devotional, New York Times bestselling author Lysa TerKeurst helps you stay connected to God and continue loving others even in the middle of discouraging, disappointing, or even devastating circumstances. Experience 50 days of morning and evening devotions complimented with beautiful color photography of significant locations where Lysa has worked through her own healing. Each devotion contains:
a Bible verse to start your day
a statement of truth to remember throughout your day
space to write and release something back to God at the end of your day
a prayer to receive before you go to sleep to better prepare for tomorrow