Back to top
Batman: Hush (New Edition) (Paperback)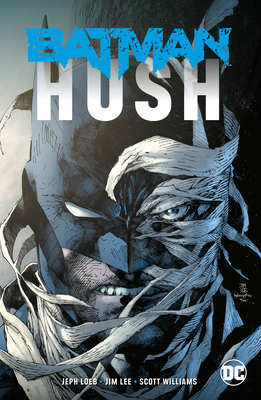 $29.99

Usually Ships in 1-5 Days
Description
---
Gotham City's worst criminals--Joker, Riddler, Ra's al Ghul, Clayface and others--have emerged to throw Batman's life into utter chaos. However, these villains are part of a much more elaborate, sinister scheme to destroy the Dark Knight once and for all, one headed by a mastermind much closer to Bruce Wayne than any foe before...

Gotham City is infected by a crime epidemic and all of Batman's enemies have emerged to throw his life into utter chaos. But little do they know, they're all pawns of the villainous Hush in an elaborate game of revenge against Bruce Wayne. Pushed past his breaking point, Batman will need to use more than the world's greatest detective skills to uncover the true identity of this mysterious mastermind before it's too late.

This truly unforgettable story by three of comics' top talents--writer Jeph Loeb (Batman: The Long Halloween, Batman: Dark Victory) and artists Jim Lee (Justice League, Suicide Squad) and Scott Williams (All-Star Batman & Robin, Superman)--presents the Caped Crusader's most personal case yet!

Collects Batman #608-619, a Hush interlude from Wizard #0, and a bonus section with over 40 pages of behind-the-scenes content.
About the Author
---
Jeph Loeb is an Emmy Award-nominated and Eisner Award-winning writer/producer living in Los Angeles. In television, his many credits include Smallville, Lost, and Heroes, and in film, Teen Wolf and Commando. In comics, he is best known for his work with the supremely talented artist and partner-in-crime Tim Sale on Batman: The Long Halloween, Superman for All Seasons, and Catwoman: When in Rome for DC as well as Daredevil Yellow, Spider-Man Blue, and Hulk Gray for Marvel.

Jim Lee is a renowned comic book artist and the Co-Publisher of DC Entertainment. Prior to his current post, Lee served as Editorial Director, where he oversaw WildStorm Studios. Lee was also the artist for many of DC Comics' best-selling comic books and graphic novels, including All-Star Batman And Robin, The Boy Wonder, Batman: Hush and Superman: For Tomorrow. He also served as the Executive Creative Director for the DC Universe Online (DCUO) massively multiplayer action game from Sony Online Entertainment (SOE). With writer Geoff Johns, Lee drew the flagship title of DC Comics—The New 52, Justice League.