Back to top
The Big Book of 60,000 Baby Names (Mass Market)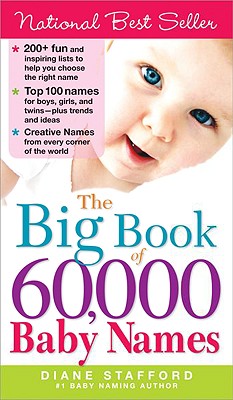 $8.99

Usually Ships in 1-5 Days
Description
---
The only resource you'll need to find the perfect baby name!
The most comprehensive and giftable guide that offers readers a variety of the BEST — and most unique — baby names out there for both boys and girls. Easy—to—use and the perfect size for busy parents on the go, this is the baby name book that moms and dads—to—be will turn to again and again.
Along with 60,000 names to browse, you will find:
150 fun and original lists for baby boy and baby girl names
Unique baby names
Tips and tricks for finding the perfect name
Country of origin and meaning of names
Alternative spellings of popular favorites
Inclusive variety of names from around the world!
Not a bulky reference book, not a stipped down sampling of names you already know, THE BIG BOOK OF 60,000 BABY NAMES is the perfect balance to help you find THE name for your new little one.
About the Author
---
Author of the wildly popular books 40,001 Best Baby Names and 50,001 Best Baby Names, magazine editor (five times running) and book editor. Diane Stafford has 25 years of experience in writing and editing—but nothing has rivaled the indecent amount of fun involved in turning out a third edition, called 60,001+ Best Baby Names, with 10,000 more names for readers.
Adding names from numerous sources, including radio talk-show listeners who called in when Stafford did first edition interviews, this high-energy author gamely enlarged the scope of a book already filled with great names, fun anecdotes, and baby-naming tips.
"Today people are more creative than ever when it comes to naming their babies," notes Stafford. "Though it may be hard to believe, the fact is, every name in this book belongs to someone out there—even ones as off-the-wall as Dijonaise, Zero, and Oddrun. Although the traditional favorites like Emma and Joshua still reign supreme, lots of people enjoy making up names for their kids, thus adding to the huge universe of options. While name inventing is controversial— people even talk about it at cocktail parties—my feeling is that you have every right to relish choosing a name for your baby. Sure, take it seriously, but not too seriously."
Stafford adds, "Having a baby is absolutely the most wonderful thing that can happen to a person, and I hope this book reflects my enormous respect for parents and my celebration of the special privilege of parenting."
Living with her husband, Civil Court judge Greg Munoz,in sunny Newport Beach, California, Stafford—a transplant from Houston, Texas—writes and edits books. Her published books include: Migraines For Dummies, Potty Training For Dummies, The Encyclopedia of STDs, No More Panic Attacks, 1000 Best Job-Hunting Secrets, The Vitamin D Cure (with Jim Dowd, M.D.) and her latest, 60,001 Best Baby Names. Four of these books were co-authored with Stafford's daughter, Jennifer Shoquist, M.D.; her job-hunting book co-author was Moritza Day.