Back to top
New York to Dallas (In Death #33) (Abridged / Compact Disc)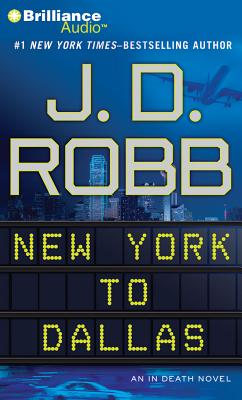 $14.99
Call to check availability
Other Books in Series
This is book number 33 in the In Death series.
Description
---
It was one of Eve Dallas's earliest takedowns, back in her uniform days. A monster named Isaac McQueen had been abducting young victims and leaving them scarred in both mind and body. Thanks to Eve, he wound up where he belonged, removed from civilized society in Rikers. But he's not behind bars anymore.
After his escape, McQueen has two things in mind. One is to take up where he left off, preying on the young and innocent--when necessary, with the help of a female partner all too willing to be manipulated and to aid and abet his crimes. His other goal: to get revenge on the woman who stopped him all those years ago, now a high-profile lieutenant in the NYPSD and married to one of the city's richest men.
Commanding Eve's attention with a chilling and brazen crime, McQueen sets off the chase--forcing Eve down a road marked with blood and tears, a road that eventually leads southwest to Dallas, Texas, the home Eve fled long ago. And each new twist brings her closer to the harrowing memory of when she wasn't a hardened detective but a vulnerable girl just like McQueen's innocent prey. As her husband, Roarke, tries to rescue her from the nightmares that claw at her mind, and her partner, Peabody, doggedly works to support her, Eve must confront--and call upon--the darkest parts of her own soul in order to survive.