Back to top
Because of an Acorn: (Nature Autumn Books for Children, Picture Books about Acorn Trees) (Hardcover)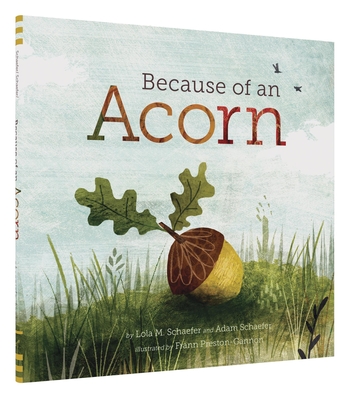 $16.99

Usually Ships in 1-5 Days
Description
---
Because of an acorn, a tree grows, a bird nests, a seed becomes a flower. Enchanting die-cuts illustrate the vital connections between the layers of an ecosystem in this magical book. Wander down the forest path to learn how every tree, flower, plant, and animal connect to one another in spiraling circles of life. An acorn is just the beginning.
About the Author
---
Lola M. Schaefer is the author of many children's books and the winner of a Charlotte Zolotow Honor and the Children's Choice Book Award. She lives with her husband in the mountains of northern Georgia.

Adam Schaefer is a writer by night, city government worker by day. Adam grew up climbing trees and still does. He lives in Seattle, Washington.

Frann Preston-Gannon is a London-based illustrator and author. Her picture books have been shortlisted for many awards. In April 2011, she became the first UK recipient of the Sendak Fellowship.
Praise For…
---
"A simple but attractive introduction to nature's life cycles."-School Library Journal

"A simple but attractive introduction to nature's life cycles."-School Library Journal

"Through a combination of vivid illustrations and simple text, this book offers small children a glimpse into the complex connections that underlie the forest's vibrant web of life."--Science Magazine

"Through a combination of vivid illustrations and simple text, this book offers small children a glimpse into the complex connections that underlie the forest's vibrant web of life."--Science Magazine

"This lyrical paean to nature celebrates connectedness and the cycles of growth."--Washington Parent

"This lyrical paean to nature celebrates connectedness and the cycles of growth."--Washington Parent

"This beautifully illustrated book celebrates the unsung hero at the heart of a white oak forest ecosystem: the acorn."--Natural History Magazine

"This beautifully illustrated book celebrates the unsung hero at the heart of a white oak forest ecosystem: the acorn."--Natural History Magazine