Back to top
The FarmMade Cookbook: Traditional Recipes from America's Farmers (Hardcover)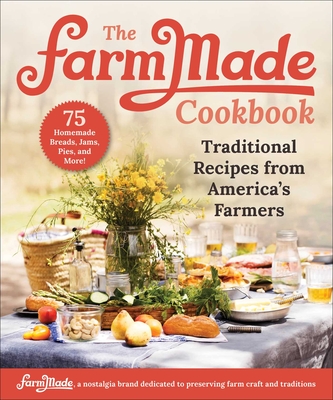 $19.99
Usually Ships in 1-5 Days
Description
---
A regional journey to unearth classic Americana farm fare.

Ancestral in nature, we all long to "get back to our roots." Nostalgia is real for present-day farm pilgrims, one or two generations removed from the farm. It's a longing we all experience while driving in the countryside or chatting it up at our local farmers' market. A longing that compels us to want to be a farmer . . . or at the very least cook like one!

A time capsule of food, craft, and tradition, The FarmMade Cookbook shares seventy-five multi-generational recipes from farms all over the country. Hailing from New England, the Deep South, the Midwest, Southwest, and Northwest, each authentic farm-made recipe represents its region's unique farming culture. Recipes are paired with each farm's unique story of resilience and connection with the land, resulting in a tangible agrarian gift to us all. 
About the Author
---
FarmMade aims to preserve and celebrate family farm traditions through sharing cultural recipes, farm stories, and handmade crafts that date back hundreds, if not thousands of years. Everything we do at FarmMade is with deep reverence and love for farmers and all things farm. We invite you to join us on our journey of purposeful living, by farm hopping from region to region, in search of a wholesomeness that can only be found on a farm.
Praise For…
---
"The amazing Patti takes us back to times when homegrown food was highly valued. She brings that appreciation to contemporary kitchens, and shows you timeless methods of preparing and preserving." —Charles Dowding, leading authority on no-dig gardening
 
"We often read recipes without knowing the stories and the people behind them. Patti Johnson-Long has made it her mission with The FarmMade Cookbook to give us a regional peek into farmers' kitchens around the US. But these aren't just recipes detailed by measures and prep steps. These have lovingly described notes by the farmers themselves about how and why this is a favorite, the time of year when ingredients are freshest, tips for successful preparation, and photos to make your mouth water. Passion for our American farm heritage seeps out of every page of this book and the hardest question to answer—which recipe to try first?" —Scottie Jones, founder and executive director of Farm Stay USA

"This cookbook is a beautiful collection of regional heritage recipes from across the nation. It's sure to fill your plate and heart with comforting flavors and memories from generations past." —Stephanie Thurow, author of Can It & Ferment It, WECK Small-Batch Preserving, and WECK Home Preserving

"Real food ingredients, simple recipes, and a rich heritage. This collection of time-honored farm favorites deserves a spot on everyone's cookbook shelf." —Jill Winger, founder of ThePrairieHomestead.com

"The FarmMade Cookbook is a real gem! Patti is an inspiration and champion of all things homemade, handmade, and farm made, and her passion shines through in this book. Featuring small farms and family traditions, this book captures the true essence of Americana with unique regional recipes, stunning photos, and a simple and approachable layout. Definitely a must-have for any foodie!" —Carolyn Grieco, founder of CarolynsFarmKitchen.com