Back to top
A History of Basketball in Fifteen Sneakers (Hardcover)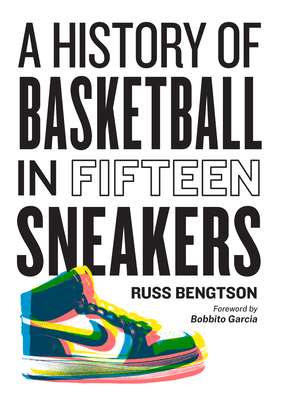 $35.00

Usually Ships in 1-5 Days
Description
---
A celebration of the iconic shoes and superstars who have defined the sport for decades, A History of Basketball in Fifteen Sneakers tells the story of hoops as only shoes can.

The ultimate book for both hoops fans and sneaker obsessives, A History of Basketball in Fifteen Sneakers is an exciting and fascinating look at the sport written with authority and experience by former Complex and SLAM magazine editor Russ Bengtson. From primeval Converse Chuck Taylor All Stars to baroque Reebok Pumps and myth-making Air Jordans to super-high-tech Nike Adapt BBs, each chapter breaks down how a specific sneaker defined an era of basketball, transformed the culture, or changed the game. With full-color sneaker photographs and detailed illustrations throughout, the book is a kaleidoscopic celebration of the players, styles, and iconic moments that have shaped hoops both on and off the court. 

Topics include: Walt Frazier's PUMA Clydes and the New York City street game; Michael Jordan's first signature Air Jordan and the birth of the modern global basketball superstar; Nike Air Swoopes and the evolution of the women's game; sneaker tech and the rise of retro; and much more.
About the Author
---
Russ Bengtson is the former editor-in-chief of SLAM magazine and longtime sneaker editor at Complex. He was a monthly columnist at Mass Appeal, and conducted one-on-one interviews with most of the NBA superstars of the 1990s and 2000s, including Michael Jordan, Allen Iverson, Kevin Garnett, Tracy McGrady, Kobe Bryant, Charles Barkley, and Shaquille O'Neal. He was also a contributor for the books Agents of Change: The Story of DC Shoes and Its Athletes (HarperCollins, 2003) and SLAM KICKS: Basketball Sneakers that Changed the Game (Universe, 2013), and edited Nike SB: The Dunk Book (Rizzoli, 2018).
Praise For…
---
"This book is not only a tremendous amount of fun, but also a tremendous resource of history. And I know that oftentimes those two things cannot co-exist. But that's only because oftentimes it's not Russ Bengtson who is doing the writing." —Shea Serrano, bestselling author of Basketball (and Other Things)

"This is the personification of perfect author meeting perfect subject. Russ Bengtson's passion for sneakers knows no bounds, and it oozes from the pages of this joyfully explosive book. A herculean effort that takes the reader on an unforgettable journey of leather, laces, and soul." —Jeff Pearlman, bestselling author of Showtime, Three-Ring Circus, and The Last Folk Hero

"A gorgeous book, as innovative and essential as the iconic sneakers that grace these pages. Whether you're a sneakerhead, a basketball lover, or someone who has never even watched hoops, this book will pull you in. There's no one better to tell this story than Russ Bengtson." —Mirin Fader, bestselling author of Giannis: The Improbable Rise of an NBA MVP and senior staff writer at The Ringer

"Russ Bengtson has been at both the genesis and the center of the sneaker revolution for thirty years. A History of Basketball In Fifteen Sneakers is not the typical sneaker dive—it is a historical recreation on how basketball and the shoes that have been a part of the game since Day One are as deeply connected as Chuck is to Taylor, Jordan is to Air, and P. J. is to Tucker." —Scoop Jackson, author of Sole Provider and former writer/editor at SLAM and ESPN

"A History of Basketball in Fifteen Sneakers confirms Russ Bengtson as this generation's definitive voice on everything sneaker-related. This book is a treasure trove of knowledge for novices and a reminder to even the most diehard sneakerhead that there are many layers to the history behind what we're wearing on our feet today." —Alex Wong, author of Cover Story and We the Champs

"Russ Bengtson has spent three decades reporting on—and shaping—basketball and sneaker culture. A History of Basketball in Fifteen Sneakers is a culmination of that expertise, but, more importantly, it is flat-out terrific. Through interviews with major contributors (Kobe Bryant, Sonny Vaccaro, David Falk) and tireless research, Bengtson crafts a mix of sports and cultural history that will inform and intoxicate readers for years to come." —Pete Croatto, author of From Hang Time to Prime Time