Back to top
Someone Who Will Love You in All Your Damaged Glory: Stories (Hardcover)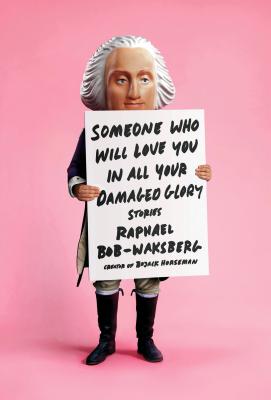 $25.95
Call to check availability
Description
---
From the creator of the beloved and universally acclaimed television series BoJack Horseman, a fabulously off-beat collection of short stories about love—the best and worst thing in the universe.

"Complex, daring, emotional, and unique, with notes of melancholic brilliance and an aftertaste of subtle elation: it is hard to describe the writing of Raphael Bob-Waksberg without sounding like Frasier discussing wine."
—B. J. Novak, author of One More Thing

Written with all the scathing dark humor that is a hallmark of BoJack Horseman, Raphael Bob-Waksberg's stories will make you laugh, weep, and shiver in uncomfortably delicious recognition. In "A Most Blessed and Auspicious Occasion," a young couple engaged to be married is forced to deal with interfering relatives dictating the appropriate number of ritual goat sacrifices for their wedding. "Missed Connection—m4w" is the tragicomic tale of a pair of lonely commuters eternally failing to make that longed-for contact. And in "More of the You That You Already Are," a struggling employee at a theme park of dead presidents finds that love can't be genetically modified.

Equally at home with the surreal and the painfully relatable (and both at once), Bob-Waksberg delivers a killer combination of humor, romance, whimsy, cultural commentary, and crushing emotional vulnerability.
About the Author
---
Raphael Bob-Waksberg is the creator and executive producer of the Netflix series BoJack Horseman. This is his first book.
Praise For…
---
ONE OF NPR'S FAVORITE BOOKS OF 2019
ONE OF THE A.V. CLUB'S FAVORITE BOOKS OF 2019

"This book is EXTREMELY MY SH*T. It's a deeply weird and hilarious work of genius. I really f**king love it."
—Samantha Irby, author of We Are Never Meeting in Real Life
 
"Raphael is the funniest male vegan who created an animated show about a talking horse working today. Run, don't walk, to your local socialist knitting circle and tell them about this hilarious book."
—Rachel Bloom, creator of Crazy Ex-Girlfriend
 
"Bob-Waksberg manages to balance his ironic humor with a deep sincerity that continues to surprise and delight. . . . [These stories] do that mysterious thing that good art can do: make your heart clench with feeling, your eyes fill with tears, your lips twitch toward a smile or all three at once."
—Ilana Masad, The Washington Post

"This is exactly the kind of book you'd hope the creator of BoJack Horseman would write. Just as his animated show is a bleary-eyed tour de force composed of equal parts depression and fun, Bob-Waksberg's debut story collection is wonderfully weird, pushing familiar stories to their absurdist limits (e.g., the couple who wants to keep their wedding simple with absolutely no goat-sacrificing). Yet each one has a chewy emotional center and a gut punch worth waiting for."
—Maris Kreizman, Vulture, "12 Books We Can't Wait to Read This Summer"

"Transcendent tragicomedy. . . . Achingly heartfelt and bitingly funny. . . . Prepare to be devastated and made whole again."
—The A.V. Club

"[These stories] conjure struggles for connection in grimly surreal alternative realities that recall the probing comic imaginings of George Saunders. . . . That said, for all its darkness, Someone Who Will Love You should be considered a lighter, amusing confection, one whose sweeter sides shine that much brighter with its balance of bitterness."
—Chris Barton, Los Angeles Times
 
"Showcases Bob-Waksberg's talent for conjuring fantastical scenarios and writing about them with a straight face. . . . Bob-Waksberg concentrates on the human aspects, only slyly waving at the extraordinary—human relationships, he seems to be saying, are weirder than anything else our imaginations can come up with."
—Michael Schaub, NPR
 
"Raphael Bob-Waksberg makes his short fiction debut with sidesplitting panache. . . . His knack for revealing the ludicrous in patient micro-doses carries the reader through an exceptionally inventive uncanny valley. . . . Bizarre and hilarious."
—Dave Wheeler, Shelf Awareness (starred review)
 
"These tales are heartfelt and funny, a winning combo. Dazzled by the wit, you'll be surprised when you start tearing up at the sincere turn."
—Read It Forward

"Bob-Waksberg's stories share parallels with those of George Saunders. Through liberal experimentation with reality, an affinity for fake brands, and lots of humor, Bob-Waksberg's stories live in the same funny-but-heartbreaking space."
—Brendan Buck, Newcity Lit

"Here's love in all of it's terrible, ridiculous, humiliating glory. Have any friends that you wish would break up with their partners? Give them this book. Have a friend whose love life is not going well? Give them this book. Feeling envious of some friend because their love life is Instagram perfect? Give them this book. And you might as well pick up a copy for yourself as well. You probably need it."
—Kelly Link, author of Get in Trouble
 
"Stories that make the familiar strange and the strange familiar and all of it hilarious. This book made me laugh while squeezing my heart—not hard enough to kill me, just hard enough so that I remembered what heartbreak feels like. Dark, funny, and brilliant."
—Charles Yu, author of How to Live Safely in a Science Fictional Universe
 
"Through humor and tenderness, Someone Who Will Love You in All Your Damaged Glory takes a magnifying glass to the small, quiet, still moments around love, heightening them to the point of surreal beauty."
—Jonny Sun, author of everyone's a aliebn when ur a aliebn too
 
"Raphael is my favorite kind of person and his writing is my favorite kind of writing: constantly alternating between the funniest and the most profound things I've ever read. He is a canceler-out of boredom."
—Lisa Hanawalt, author of Coyote Doggirl

"Some giggles, some tears, bloody goats and a ferry boat ride. All to keep us engaged and on our toes. With love, your Nana."
—Shirley Bob, author's grandmother
 
"The stories are very moving and true to today's society. As your grandma, I hope you sell a million copies of this book. I'm so proud of my little Raphi."
—Florence Waksberg, author's grandmother

"Wonderfully absurd and unexpectedly moving. . . . Bob-Waksberg successfully tempers the ridiculous with a sharp tug at the heartstrings. . . . These stories are at times poignant and triumphantly silly, but always manage to ring true."
—Publishers Weekly

"Sometimes-whimsical, sometimes-biting short fictions from the creator of Netflix's BoJack Horseman. This offbeat collection of bad romances will be a treat for fans of Bob-Waksberg's animated cult comedy. . . . Bob-Waksberg caps his collection with a theme park of dead presidents in 'More of the You That You Already Are,' strongly reminiscent of David Sedaris's 'Santaland Diaries'. . . . A savage sendup of love in all its dubious glory."
—Kirkus Reviews
Coverage from NPR