Back to top
The Kingdom of Sweets: A Novel of the Nutcracker (Hardcover)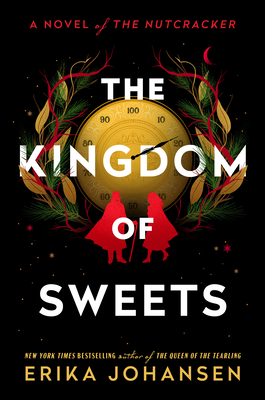 $28.00

Usually Ships in 1-5 Days
Description
---
This gloriously transportive reimagining of The Nutcracker tells the tale of twin sisters, divided by envy and magic, set against each another one fateful Christmas Eve.

Light and dark—this is the cursed birthright placed upon Clara and Natasha by their godfather, Drosselmeyer, whose power and greed hold an entire city in his sway. Charming Clara, the favorite, grows into a life of beauty and ease, while Natasha is relegated to her sister's shadow, ignored and unloved.
 
But Natasha seizes the opportunity for revenge one Christmas Eve, when Drosselmeyer arrives at the family gala with the Nutcracker, an enchanted gift that offers entry into an alternate world: the Kingdom of Sweets.
 
Following Clara into the glittering land of snow and sugar, Natasha discovers a source of power far greater than Drosselmeyer: the Sugar Plum Fairy, who offers her own wondrous gifts . . . and chilling bargains. But as Natasha uncovers the truth about a dark destiny crafted long before her birth, she must reckon with forces both earthly and magical, human and diabolical, and decide to which world she truly belongs.
About the Author
---
Erika Johansen grew up in the San Francisco Bay Area. She went to Swarthmore College in Pennsylvania, attended the Iowa Writers' Workshop, and eventually became an attorney, but she never stopped writing. She lives in England.
Praise For…
---
"If you watch The Nutcracker every year and say to yourself, 'This would make a seriously creepy novel,' you're not alone. And now we've got one. Twin sisters Clara and Natasha are cursed to be divided, one the privileged favorite and one cast aside and ignored. That is, until their powerful godfather brings them a magical nutcracker that grants the girls entry into the Kingdom of Sweets. That's where the journey toward their destiny really begins."
—Good Housekeeping, "The 20 Best Books of Fall 2023"

"Beautiful in the way that deadly things so often are, this is a novel that is not only satisfyingly atmospheric and creepy, it's dotted with razor-sharp commentary on envy, poverty, and female rage."
—Paste Magazine

"The famous Christmas ballet takes a sinister turn in Johansen's spooky retelling... It would be a simple thing to take the outlines of The Nutcracker ballet and make it grim, but Johansen is doing a lot of delicate character work here, primarily around envy, social limitations on women's choices, and accountability. The world beyond the candy fantasy is satisfyingly creepy but also an effective landscape for exploring what happens when you ignore the rotten core of your deepest desires. An eerie and sophisticated dark fantasy."
—Kirkus (starred)

"Johansen transforms a beloved holiday classic into a dark tale of vengeance.... Fans of artistically influenced, realistic historical fiction wrapped in moral allegory will relish Natasha's Nutcracker-adjacent narrative."
—Booklist (starred)

"Erika Johansen's The Kingdom of Sweets puts a disturbing twist on the classic Nutcracker, transporting readers into a world where dark bargains lurk beneath ornate facades. Johansen explores the casualties of the era's gender and beauty politics, and every display of the excesses of the Russian Empire comes with the knowledge that revolution is only a few years away.... The Kingdom of Sweets has hidden depths: Lyrical and terrifying, it is just as likely to disturb as it is to enchant."
—BookPage

"There's no denying the lushness of Johansen's prose or the allure of her atmospheric setting. . . Fans of thorny fairy tales and inventive retellings will want to check it out."
—Publishers Weekly

"In this stand-alone novel, Johansen writes a beautifully twisted version of The Nutcracker, exploring the nature of revenge and its costs in horror-tinged fantasy. Recommend to fans of V.E. Schwab and Hannah Whitten."
—Library Journal

"The Kingdom of Sweets is a deliciously dark fairy tale that transports one to a world of magic, fantasy and family intrigue. Erika Johansen has written one of the most wonderfully original novels I've ever read, a story so imaginative, so filled with dangerous beauty, that you will never forget it."
—Danielle Trussoni, New York Times bestselling author of The Puzzle Master

"An irresistible alternative history, Johansen's The Kingdom of Sweets invites readers to indulge in the darkness that simmers below the glittering surface of a universally beloved fairy tale – The Nutcracker. Delectably perverse and lushly written, Johansen's reimagining will be devoured by fans of Tim Burton and readers of Katherine Arden. The perfect gothic treat for a cold winter's day."
—Katy Hays, New York Times bestselling author of The Cloisters

"The Kingdom of Sweets drags you headfirst into its world of horror and whimsy, where the lines between reality, dream, and nightmare are far thinner and more porous than you think. Dark, twisty, and delicious, Johansen will keep you guessing until the curtain falls." 
—Vaishnavi Patel, New York Times bestselling author of Kaikeyi

"Fantasy, history, and horror make an incredible confection in The Kingdom of Sweets, a terrifying and sugary take on The Nutcracker that you'll devour as quickly as you can."
—Hannah Whitten, New York Times bestselling author of For the Wolf

"In this gripping reimagining of the holiday classic, Erika Johansen shatters the sugar plum surface of the original Nutcracker to plunge deep into the shadows beneath. Twins Clara and Natasha are divided at birth by their unexpected godfather, Drosselmeyer, with one twin designated 'light' and the other 'dark.' But Johansen entwines love and hate, jealousy and pity, vengeance and forgiveness so tightly, it's impossible to decide which twin to root for. Johansen gives readers the gift of a compelling and richly imagined story that will keep them turning pages until the last, fully realized twist."
—Liz Michalski, author of Darling Girl