Back to top
The Office: The Untold Story of the Greatest Sitcom of the 2000s: An Oral History (Hardcover)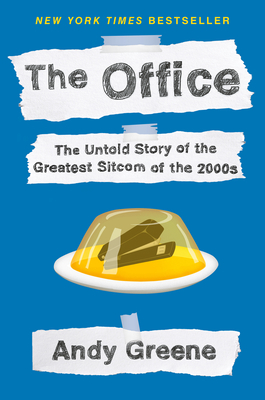 $28.00
Call to check availability
Description
---
AN INSTANT NEW YORK TIMES BESTSELLER

The untold stories behind The Office, one of the most iconic television shows of the twenty-first century, told by its creators, writers, and actors
 
When did you last hang out with Jim, Pam, Dwight, Michael, and the rest of Dunder Mifflin? It might have been back in 2013, when the series finale aired . . . or it might have been last night, when you watched three episodes in a row. But either way, long after the show first aired, it's more popular than ever, and fans have only one problem—what to watch, or read, next.
 
Fortunately, Rolling Stone writer Andy Greene has that answer. In his brand-new oral history, The Office: The Untold Story of the Greatest Sitcom of the 2000s, Greene will take readers behind the scenes of their favorite moments and characters. Greene gives us the true inside story behind the entire show, from its origins on the BBC through its impressive nine-season run in America, with in-depth research and exclusive interviews. Fans will get the inside scoop on key episodes from "The Dundies" to "Threat Level Midnight" and "Goodbye, Michael," including behind-the-scenes details like the battle to keep it on the air when NBC wanted to pull the plug after just six episodes and the failed attempt to bring in James Gandolfini as the new boss after Steve Carell left, spotlighting the incredible, genre-redefining show created by the family-like team, who together took a quirky British import with dicey prospects and turned it into a primetime giant with true historical and cultural significance.
 
Hilarious, heartwarming, and revelatory, The Office gives fans and pop culture buffs a front-row seat to the phenomenal sequence of events that launched The Office into wild popularity, changing the face of television and how we all see our office lives for decades to come.
About the Author
---
Andy Greene is from Cleveland, Ohio, graduated from Kenyon College, and is now a senior writer for Rolling Stone, where he's worked for the past fifteen years. He's written cover stories about Radiohead and Howard Stern and feature articles about Bill Withers, Nathan Fielder, Steve Perry, Pete Townshend, Stephen King, and many others. He lives in Brooklyn.
Praise For…
---
"When Andy Greene interviewed me for this book, he was actually the first person to mention that I had acted in a TV show. . . . I thought up to that point that I was actually working at a paper company. But in any case, I loved the book. It's spot on, with great background stories, and I learned so much."
—Creed Bratton, actor, The Office

"An exhaustive and lovingly researched history… Greene reminds readers just why they fell in love with this show in the first place, convincingly arguing for its spot in the annals of TV history, and in the process, crafting a vital, info-packed addition for the comedy nerd's library."
—Vulture

"Writer Andy Greene puts one of the most resonant sitcoms in American comedy under a microscope in his in-depth oral history, The Office: The Untold Story of the Greatest Sitcom of the 2000s. Even for the most insatiable fan, this rendering provides some of the most surprising revelations via an award-winning (and still quite passionate) cast and crew."
—The A.V. Club

"It just might be the perfect time to re-binge-watch the iconic TV series, and Greene's 'untold story,' complete with cast interviews, is the ideal companion volume."
—People 

"Fans of The Office who are looking for a meaningful way to celebrate the show's fifteenth anniversary are in luck. . . . [Author Andy] Greene conducted a whopping eighty-six interviews for this book, which he combined with archival material, past show-related interviews, and quotes from DVD commentaries. The end result is a masterful, captivating story of The Office's nine-season run on NBC that will give fans a deeper understanding of what it was like working on the show, and offer a heavy dose of nostalgia."
—Mashable

"[A] love letter to the show . . . a dream guide and oral history into the full creative process . . .  The behind-the-scenes detailing of classic episodes along with the thoughts from the people on the front lines of the show make this a perfect book for fans along with students studying how television series are made." 
—Jeff Ayers, Associated Press

"Perhaps the best review I can give for The Office: An Oral History is that as a huge fan of the show, this book made me laugh out loud and cry on many occasions while managing to surprise me at every turn. I both learned and felt a lot, which is pretty much the best you can hope for in a book."
—Hypable

"At times poignant, at times hilarious, and always fascinating, Andy Greene's The Office is a treasure chest of new details and photos. Along with your DVDs and bobbleheads, you must add this to your own superfan collection."
—Jennie Tan, founder of the top fan site OfficeTally.com

"A tremendously fun must-read for anyone who loves the show! Andy Greene gets you inside the entire process, including the show's creation, casting, what happened inside the writer's room, and what actors were thinking during specific scenes. Reveals so many inside details about the Dunder Mifflin Paper Company, many that even I didn't know—and I played the owner!"
—Andy Buckley (aka David Wallace), actor, The Office

"A fascinating behind-the-scenes look at The Office. Even though the show was my home for many years, I still learned a lot by reading this book. I couldn't put it down!"
—Jennifer Celotta, executive producer and writer, The Office

"Andy Greene's epic history of The Office is as brilliant, riotous, addictive, and essential as the show itself. Greene tells the whole strangely heroic tale of how one weird show accidentally reshaped TV comedy—and makes it feel like a time capsule of our entire culture."
—Rob Sheffield, New York Times bestselling author, Dreaming the Beatles and Love Is a Mixtape

"In this behind-the-scenes trove for the countless fans of The Office, Rolling Stone senior writer Greene pulls together comments, context, and insights in a round-table style that tracks the sitcom's origins and success. . . . With cogent chapters about key episodes, lead characters . . . craft talk, and nuts-and-bolts details, Greene smartly lets the contributors elaborate how a workplace mockumentary became a cultural phenomenon. . . . A fond, funny, informative trip down Memory Lane for series buffs and newcomers alike."
—Kirkus Reviews

"First-time author Greene delivers a fascinating oral history of The Office. . . . Greene, a pop culture writer for Rolling Stone, illuminates the show thanks to nearly a hundred interviews with cast members, writers, directors, producers, and crew along with various TV executives and critics. . . . With its wealth of anecdotes, this entertaining history will delight the series' many fans."
—Publishers Weekly

"Greene's affectionate tribute will satisfy Office devotees eager for a behind-the-scenes look at this beloved sitcom."
—Library Journal