Back to top
The Complete Runner's Day-by-Day Log 12-Month 2023 Planner Calendar (Calendar)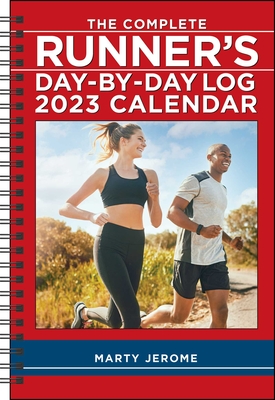 Email or call for price
Out of Print
(This item is non-returnable and must be pre-paid.)
Description
---
For more than 35 years, inspirational photographs, helpful tips, and insightful essays have made The Complete Runner's Day-by-Day Log the best-selling running journal for all ages and levels.
Portable and practical, this flexible weekly/monthly planner is an indispensable tool for tracking daily progress and planning for races throughout the year, featuring motivational images and quotes, tips and reminders, and monthly essays for runners of all levels, from joggers to marathoners.
Features include:
6.6" x 9.2" page size (13.2" x 9.2" open)
Spiral-bound
Printed on FSC-certified paper with soy-based ink
Calendar lays flat when open
12-Month Planner: January–December 2023
Generous grid space for notes, appointments, and reminders
Year-at-a-glance pages for 2022, 2023, and 2024
Tips to improve your running practice and motivational quotes alongside full-color photographs
Marty Jerome's insightful monthly essays. 
Graphs to monitor and visualize weekly mileage, plus bonus space to track records and race times
Monthly and weekly planning space
Official major world holidays and observances
About the Author
---
For sixteen years, Marty Jerome has authored The Complete Runner's Day-by-Day Log and Calendar, continuously published since it was started by the legendary Jim Fixx in 1985. Marty's reporting has been featured in Fortune, Wired, Outside, Men's Health, and the Los Angeles Times. He is the winner of a Technology Press Award and a finalist for the National Magazine Award. His column for the Boston Globe and Smart Business magazine spanned nearly a decade. He is the author of three books on technology, a former magazine editor, and is currently a media consultant. Marty lives in San Francisco.