Back to top
Brand New Boy (Hardcover)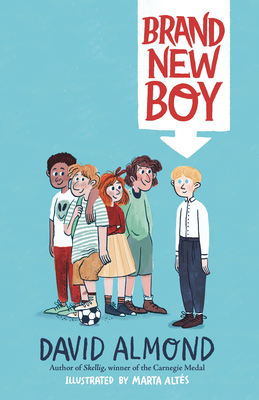 $18.99

Usually Ships in 1-5 Days
Description
---
An inventive tale by a beloved Hans Christian Andersen Award winner celebrates our differences—and the joys of inclusion—through the lens of artificial intelligence.

From the boundless imagination of David Almond comes a thought-provoking question, packaged in a lively illustrated chapter book: what if a robot went to school? When a new boy joins their class, everyone thinks he's . . . odd. George doesn't behave like other kids. He doesn't think like other kids. But he's great at football and snacking, and that's what matters to Dan and Maxie and friends, who resolve to make George feel welcome. Over time, they learn that he's just like them, in most ways, except one: George is a robot, part of an ambitious new experiment, with sinister people bent on destroying him. When his lab pulls him out of school, can George's new friends recover him—and set him free? Told in David Almond's signature rollicking narrative style, this poignant tale about what it means to be human, paired with warm and funny black-and-white illustrations, will inspire children to think and giggle in equal measure.
About the Author
---
David Almond is the highly acclaimed author of many award-winning novels for children, such as The Boy Who Swam with Piranhas, The Tale of Angelino Brown, Skellig, Clay, Kit's Wilderness, War Is Over, and The Color of the Sun. His numerous awards include the Carnegie Medal and the Hans Christian Andersen Award, the highest international prize for children's authors. David Almond lives in England.

Marta Altés was born in Barcelona and studied graphic design there before becoming an author and illustrator. Her many books include My Grandpa, I Am An Artist, and NO! Marta Altés now lives in London.
Praise For…
---
Almond elevates ordinary moments and experiences into extraordinary ones… Inspiring guidelines for treating newcomers; likely to leave readers thinking deep thoughts of their own.


—Kirkus Reviews (starred review)

A wide-ranging narrative voice, by turns humorous, hopeful, and triumphant, traces the friends' attempts to help George transcend his own seemingly limited nature, while exploring impulses of imagination and creative freedom alongside classroom rigidity.
—Publishers Weekly

The story morphs from a lighthearted romp to something dreamier. . . Inevitably, the denouement is bittersweet, leaving us with a simple and sturdy answer to one of the most relevant questions of our time. What defines us as humans? This story's answer is friendship.
—The Horn Book

A thoughtfully generous conclusion in which the kids find comfort in knowing they gave George his best possible existence.
—The Bulletin of the Center for Children's Books

Arguments about the sentience of artificial life, albeit crafted for young readers, play a major role in this fun but thought-provoking novel. Young sf fans, especially readers drawn to Peter Brown's The Wild Robot (2016), will enjoy this title.
—Booklist