Back to top
The Big Time: How the 1970s Transformed Sports in America (Hardcover)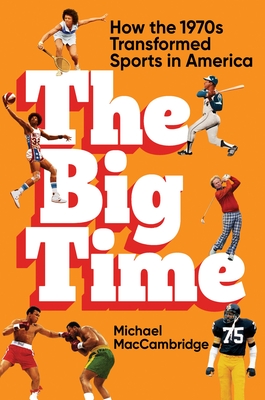 $32.50

Usually Ships in 1-5 Days
Description
---
"Indispensable history." –Sally Jenkins, bestselling author of The Right Call

A captivating chronicle of the pivotal decade in American sports, when the games invaded prime time, and sports moved from the margins to the mainstream of American culture.

Every decade brings change, but as Michael MacCambridge chronicles in THE BIG TIME, no decade in American sports history featured such convulsive cultural shifts as the 1970s. So many things happened during the decade—the move of sports into prime-time television, the beginning of athletes' gaining a sense of autonomy for their own careers, integration becoming—at least within sports—more of the rule than the exception, and the social revolution that brought females more decisively into sports, as athletes, coaches, executives, and spectators. More than politicians, musicians or actors, the decade in America was defined by its most exemplary athletes. The sweeping changes in the decade could be seen in the collective experience of Billie Jean King and Muhammad Ali, Henry Aaron and Julius Erving, Kareem Abdul-Jabbar and Joe Greene, Jack Nicklaus and Chris Evert, among others, who redefined the role of athletes and athletics in American culture. The Seventies witnessed the emergence of spectator sports as an ever-expanding mainstream phenomenon, as well as dramatic changes in the way athletes were paid, portrayed, and packaged. In tracing the epic narrative of how American sports was transformed in the Seventies, a larger story emerges: of how America itself changed, and how spectator sports moved decisively on a trajectory toward what it has become today, the last truly "big tent" in American culture.
About the Author
---
Michael MacCambridge is an author, journalist and TV commentator, whose books have included the acclaimed America's Game: The Epic Story of How Pro Football Captured A Nation and Chuck Noll: His Life's Work. For eight years a columnist and critic at the Austin American-Statesman, MacCambridge was later a contributor to A New Literary History of America, and his work has appeared in the New York Times, the Wall Street Journal, the Washington Post, Sports Illustrated, and GQ. The father of two children, Miles and Ella, he lives in Austin.
Praise For…
---
"Michael MacCambridge has produced a riveting book you didn't know needed to be written until you turn the first page—at which point you realize it's indispensable history. THE BIG TIME is part cultural biography and part stroll down charming lanes of nostalgia, revisiting indelible characters at their peak powers, from Chrissie Evert to Kareem Abdul-Jabbar. But mainly it's an engrossing appraisal of an American decade that changed, well, everything."—Sally Jenkins, author of The Right Call

"Michael MacCambridge's THE BIG TIME is a meticulously researched, beautifully written and wonderfully entertaining walk down memory lane. The '70s were such a fascinating decade in sports and culture, and this book brings all the characters and moments to life in riveting detail. We know that time travel doesn't exist, but this book sure comes close."—Christine Brennan, USA Today sports columnist and author of the best-selling Inside Edge

"Michael MacCambridge is one of America's finest chroniclers and when he told me he was turning his eye to the 1970s, the decade of my childhood, I couldn't have been more thrilled. He delivers exactly what I hoped he would, a book brimming with nostalgia and fun, filled with all the marvelous names that shaped my life as a sports fan as well as shaping sports as we now know them."—Joe Posnanski, bestselling author of The Baseball 100

"If you remember how great sports were in those days, THE BIG TIME will remind you, and if you doubt how great, this book will show you."—Roy Blount, Jr., author, About Three Bricks Shy of a Load

"Impressive in scope and vividly told, this is a winner."—Publishers Weekly (starred review)

"The Big Time crackles…and induces longing for a time when sporting events were less scripted, scrutinized and corporatized."
 —New York Times