Back to top
Unnatural Death: A Scarpetta Novel (Kay Scarpetta) (Hardcover)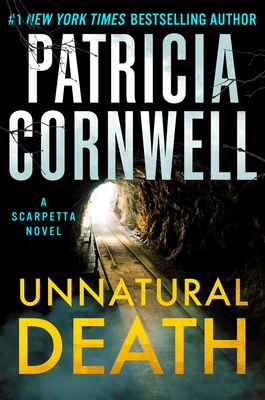 $30.00

Usually Ships in 1-5 Days
Description
---
Two mauled bodies in the woods. Top secret autopsies. The most chilling cases of Scarpetta's career.

In this thrilling new installment of Patricia Cornwell's #1 bestselling Scarpetta series, chief medical examiner Dr. Kay Scarpetta finds herself in a Northern Virginia wilderness examining the remains of two campers wanted by federal law enforcement.
 
The victims have been savaged beyond recognition, and other evidence is terrifying and baffling, including a larger-than-life footprint.  
 
After one of the most frightening body retrievals of her career, Scarpetta must discover who would commit murders this savage, and why.
About the Author
---
In 1990, Patricia Cornwell sold her first novel, Postmortem, while working at the Office of the Chief Medical Examiner in Richmond, Virginia. An auspicious debut, it went on to win the Edgar, Creasey, Anthony, and Macavity Awards, as well as the French Prix du Roman d'Aventures—the first book ever to claim all these distinctions in a single year. Growing into an international phenomenon, the Scarpetta series won Cornwell the Sherlock Award for best detective created by an American author, the Gold Dagger Award, the RBA Thriller Award, and the Medal of Chevalier of the Order of Arts and Letters for her contributions to literary and artistic development. Today, Cornwell's novels and iconic characters are known around the world. Beyond the Scarpetta series, Cornwell has written the definitive nonfiction account of Jack the Ripper's identity, cookbooks, a children's book, a biography of Ruth Graham, and three other fictional series based on the characters Win Garano, Andy Brazil, and Captain Callie Chase. Cornwell continues exploring the latest space-age technologies and threats relevant to contemporary life. Her interests range from the morgue to artificial intelligence and include visits to Interpol, the Pentagon, the U.S. Secret Service and NASA. Cornwell was born in Miami. She grew up in Montreat, North Carolina, and now lives and works in Boston.
Praise For…
---
PRAISE FOR PATRICIA CORNWELL:

"Dr. Kay Scarpetta, who keeps us coming back to Patricia Cornwell's sprawling crime novels, is one tough broad."—New York Times Book Review

"Scarpetta is brilliant, compassionate and humble, excelling in her profession and in diplomacy."—Library Journal, Starred Review for Autopsy

Patricia Cornwell is a "masterful mysterian."—Kirkus Reviews

"Everyone knows Scarpetta; she has the wit, intelligence, and strength that any forensic sleuth should own. This never-stop action plot is yet another gift to readers from Patricia Cornwell-a literary artist that is never going to stop writing some of the best and most memorable thrillers out there."—Suspense Magazine

"Cornwell's demonic plot shifts and changes almost page by page, so the reader's spun round not knowing what to believe."—Providence Journal, Praise for Depraved Heart