Back to top
The Field Guide to Citizen Science: How You Can Contribute to Scientific Research and Make a Difference (Paperback)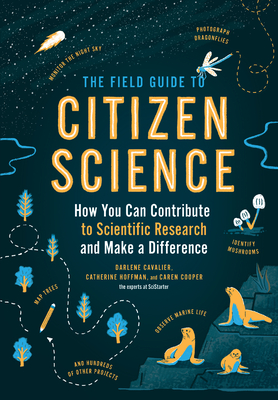 $16.95

Usually Ships in 1-5 Days
Description
---
Learn how monitoring the night sky, mapping trees, photographing dragonflies, and identifying mushrooms can help save the world.

Citizen science is the public involvement in the discovery of new scientific knowledge. A citizen science project can involve one person or millions of people collaborating towards a common goal. It is an excellent option for anyone looking for ways to get involved and make a difference. The Field Guide to Citizen Science, from the expert team at SciStarter, provides everything you need to get started. You'll learn what citizen science is, how to succeed and stay motivated when you're participating in a project, and how the data is used. The fifty included projects, ranging from climate change to Alzheimer's disease, endangered species to space exploration, mean sure-fire matches for your interests and time. Join the citizen science brigade now and start making a real difference!
 
About the Author
---
SciStarter enables people to contribute to science through informal recreational activities and formal research efforts. The website creates a shared space where scientists can connect with people interested in working on or learning about joint research projects. SciStarter features 1,100 searchable citizen science projects and recruits participants through partnerships with Discover Magazine and Astronomy Magazine, PBS Kids, the National Science Teachers Association, Public Library of Science, WHYY/NPR, Pop Warner Youth Scholars, and more. SciStarter is a division of Science for Citizens LLC.
Praise For…
---
"Writing with encouraging clarity, the authors explain how to become a citizen scientist and how scientists provide the instructions and equipment required for collecting authentic data." —Booklist

"The most powerful way for science to change your perception of the world is for you to do it yourself. That's the underlying theme of this friendly how-to overview of the citizen science movement… As with every great adventure, you just have to take the first step to get going." —Discover Magazine 

"This book is infectious in the best way possible. In a world that often feels like it is spinning out of control, where your actions can appear insignificant and change seems out-of-reach, this book gives you hope, a sense of possibility, and perhaps even a purpose." —Science Connected

"A must-have resource for learning the truths and myths of citizen science." —The Arlington Daily Herald