Back to top
Addict in the Family: Support Through Loss, Hope, and Recovery (Paperback)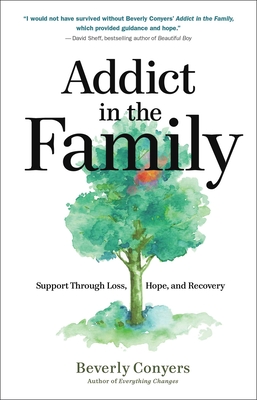 $17.95

Usually Ships in 1-5 Days
Description
---
The family recovery classic, Addict in the Family, has been revised and updated to offer parents and other family members even greater support when faced with the reality of a loved one's addiction. Solid, actionable advice and information about what helps and what doesn't—and how to care for themselves—make this an indispensable guide.

For families of addicts, fear, shame, and confusion over a loved one's addiction can cause deep anxiety, sleepless nights, and even physical illness. The emotional distress family members suffer is often compounded by the belief that they somehow caused or contributed to their loved one's addiction—or that they could have done something to prevent it.

Addict in the Family is a book about the pain of addiction, but more importantly it is a book of comfort, understanding, and hope for anyone struggling with a loved one's addiction. As the compelling personal stories reveal, family members do not cause their loved one's addiction—nor can they control or cure it. What family members can do is find support, set boundaries, detach with love, and eventually discover how to enjoy life more fully. This book helps them do just that—whether the loved one achieves recovery or not.
About the Author
---
Beverly Conyers, MA—one of the most respected voices in wellness and recovery—has guided hundreds of thousands of readers through the process of recognizing family roles in addiction, healing shame, building healthy relationships, releasing trauma, focusing on emotional sobriety, as well as acknowledging self-sabotaging behaviors, addictive tendencies, and substance use patterns.

Beverly is a writer and college English teacher who lives in New England. She is the author of Find Your Light, Addict in the Family, Everything Changes, and The Recovering Heart as well as the recovery-focused guided journal Follow Your Light. Conyers began writing about recovery as part of her response to her daughter's addiction to heroin. Her areas of interest and expertise have expanded to include mindfulness practice and other topics related to recovery, particularly emotional sobriety.
Praise For…
---
Beverly Conyers shares her ongoing experience and hard-earned wisdom in this updated edition of 'Addict in the Family'. Full of clarity and comfort, new insights and inspiration, this book--this author--is a treasure for anyone who loves someone struggling with the disease of addiction.
— Sandy Swenson, author of Tending Dandelions, The Joey Song, and Just Dandy.

For well over a decade Beverly Conyers's "Addict in the Family" has been one of our a top recommendations for family members to read. Often we blame ourselves for a disease that we can not control. We experience many forms of grief for those living as well as those who we have lost. Beverly reminds us in her writing that we are not alone, we are not in control of others but we can control our reactions which in turn at times can become helpful to our loved ones. Also Beverly reminds us that there is HOPE and RECOVERY for both the family and the loved one experiencing addiction. I will be forever grateful for Beverly's writing which also helps me heal in my journey.
— Joanne Peterson, Founder and Executive Director, Learn to Cope, Inc.