Back to top
Holy Rascals: Advice for Spiritual Revolutionaries (Paperback)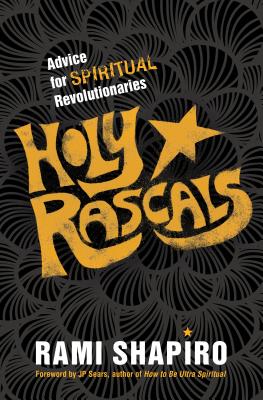 $16.95

Usually Ships in 1-5 Days
Description
---
God is real. Everything we say about God is made up. Holy Rascals is a rousing call to anyone ready to go beyond "isms" and ideologies, and live in the world as a liberating force of justice, compassion, and joy.

"Holy rascals are spiritual culture jammers who use humor, play, creativity, and critical thinking to reveal the human origins of religions—and how religions mask their true origins behind the conceit of divine origins," writes Rabbi Rami. Here, he illuminates:

• The making of a holy rascal and the great task of "freeing religion from the parochial and for the perennial"

• The art of "hacking the holy," or pulling back the curtain on religion's fear-based mechanisms of control

• The provocative tools and one-of-a-kind practices of the holy rascal, with guidance for creating your very own "rascally" ways

"Holy rascality is about rekindling spiritual creativity and critical thinking," explains Rabbi Rami. "It is about freeing the human capacity for religiosity—the capacity for making meaning—from the confines of brand-name religion. Holy rascals are playful and lighthearted. While our task is serious—the liberation of humanity from the madness of unhealthy and harmful religions and religious beliefs—our attitude is not." Holy Rascals brings you Rabbi Rami's one-of-a-kind inspiration, humor, and practical insight to help you on your mission.
About the Author
---
Rabbi Rami Shapiro is an award winning author of over two dozen nonfiction books, whose poems and short stories have been anthologized in over a dozen volumes, and whose prayers are used in prayer books around the world. Rami received rabbinical ordination from the Hebrew Union College–Jewish Institute of Religion, and holds a PH.D. in religion from Union Graduate School. A congregational rabbi for 20 years, Rabbi Rami is currently Adjunct Professor of Religious Studies at Middle Tennessee State University where he also directs The Writer's Loft, MTSU's creative writing program, and co–director of One River Wisdom School, a training program in the Perennial Philosophy.In addition to writing books, Rami writes a regular column for Spirituality and Health magazine called Roadside Assistance for the Spiritual Traveler. He can be reached via his website, rabbirami.com.

JP Sears is an international teacher, speaker, and performer at events around the world, emotional healing coach, curious student of life, and satirist best known for his popular YouTube channel. JP's "Ultra Spiritual" videos have accumulated over 100 million views. For more, visit AwakenWithJP.com.
Praise For…
---
"Mystic, scholar, trickster, grenade-roller . . . no one else puts all of these together in one package like Rami Shapiro. If you like fine writing, clear-eyed wisdom, impish irreverence, and compassion for the insanities of the spiritual journey, Holy Rascals is for you. After reading Holy Rascals you may just conclude, 'Oh, me too! I'm a holy rascal—I just didn't know it until now!" —Gordon Peerman, author of Blessed Relief: What Christians Can Learn from Buddhists about Suffering

"At once side-splittingly hilarious and heartbreakingly on target, this outrageous tour de force of a spiritual manifesto reminds us once again that great irony wielded with great compassion can be a powerful vehicle of truth." —Cynthia "Moksha" Bourgeault, recovering goddess and inter-spiritual incendiary; author of The Wisdom Way of Knowing, The Heart of Centering Prayer, Love Is Stranger (oops, change that to Stronger) than Death

"Holy Rascals is at times brilliant, funny, abrasive, and insightful. It poses the big question about religion: Are we making all this up, and if so, how can we make it up in the most positive and life-affirming way? An alternative question might be: Is there a Higher Order Reality that human beings might aspire to, sacrifice for, and be guided by?" —Kabir Helminski, Sufi teacher, translator of Rumi, author of Living Presence, The Knowing Heart, and Holistic Islam

"This book is ridiculous, which from a Zen perspective is high praise indeed!" —Mark Watts, filmmaker and archivist of Out of Your Mind: Essential Listening from the Alan Watts Audio Archives

"Rabbi Rami is a rare sage and trickster rolled into one. With sparkling wit, he demonstrates in this unique book that profound and daring truths are best conveyed through humor and laughter." —Imam Jamal Rahman, author of Sacred Laughter of the Sufis

"Rami Shapiro gets the real secret of religions: at their very heart, the best of them are meant to free us from dogma itself. Here are some great ways of thinking hard, laughing loud, and breaking free that should make any reader—naive believer or cynical outsider—into a spiritual revolutionary." —Douglas Rushkoff, author of Nothing Sacred: The Truth about Judaism

"Wake up! Buckle your seat belt. Be prepared for a raucous ride into the future. With his wit, creative use of language, and a twinkle in his eyes, Rabbi Rami gives name and voice to a movement that has been brewing for a long time. Holy Rascals delights and challenges us to open our thinking while we laugh at our own foolishness and gain wisdom in the process. This reverent/irreverent book is filled with practices and memorable stories that support those of us who know we are subversive holy rascals as well as those who will recognize that they too are a member of this tribe. Highly recommended! " —Kay Lindahl, author The Sacred Art of Listening

"I love this book. I feel at home in it. There isn't a sentence in this book that I don't agree with 150 percent, and it is all presented with an intelligent, sensitive, and brash humor that only slightly veils the sadness over a world so in need of religion and yet ignorant of it. Enjoy the humor, but don't neglect the wisdom that is on every page. Now I hope Rabbi Rami will anoint me in holy rascality." —Thomas Moore, author of Care of the Soul

"Sure, this book is hilarious. I kept barging into my husband's studio to read him passages of such sublime irreverence they left us both breathless. But it is also terrifyingly pertinent. The vast majority of religious propositions are not only ridiculous, but dangerous. This book pulls back the curtain and exposes the little man who has replaced real magic with fake power. In his fierce truth-telling, Rabbi Rami reconnects the yearnings of our own wild hearts with the sacred soul of the world." —Mirabai Starr, author of Caravan of No Despair: A Memoir of Loss and Transformation and God of Love: A Guide to the Heart of Judaism, Christianity, and Islam

"Shapiro, a rabbi and self-described holy rascal, writes about the divine and the role of spirituality in contemporary life with refreshing zest in his latest work...[his] emphasis on creativity and play make this book joyful as well as meaningful." —Publishers Weekly