Back to top
MCU: The Reign of Marvel Studios (Hardcover)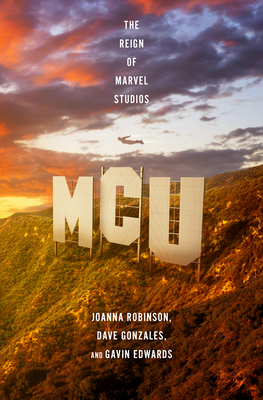 $35.00

Usually Ships in 1-5 Days
Description
---
INSTANT NEW YORK TIMES BESTSELLER
"A superb chronicle of how Marvel Studios conquered Hollywood…. This definitive account of the Hollywood juggernaut thrills." —Publishers Weekly, starred review



The unauthorized, behind-the-scenes story of the stunning rise—and suddenly uncertain reign—of the most transformative cultural phenomenon of our time: the Marvel Cinematic Universe.
Marvel Entertainment was a moribund toymaker not even twenty years ago. Today, Marvel Studios is the dominant player both in Hollywood and in global pop culture. How did an upstart studio conquer the world? In
MCU
, beloved culture writers Joanna Robinson, Dave Gonzales, and Gavin Edwards draw on more than a hundred interviews with actors, producers, directors, and writers to present the definitive chronicle of Marvel Studios and its sole, ongoing production, the Marvel Cinematic Universe. For all its outward success, the studio was forged by near-constant conflict, from the contentious hiring of Robert Downey Jr. for its 2008 debut,
Iron Man
, all the way up to the disappointment of
Ant-Man and the Wasp: Quantumania
and shocking departures of multiple Marvel executives in 2023. Throughout, the authors demonstrate that the original genius of Marvel was its resurrection and modification of Hollywood's old studio system. But will it survive its own spectacular achievements? Dishy and authoritative,
MCU
is the first book to tell the Marvel Studios story in full—and an essential, effervescent account of American mass culture.
About the Author
---
Joanna Robinson is a writer and podcaster at the Ringer. Previously, she worked at Vanity Fair. She lives in Oakland, California.

Dave Gonzales is a podcaster and has written for the New York Times and the Guardian. He lives in Denver, Colorado.

Gavin Edwards is the best-selling author of The Tao of Bill Murray and twelve other books. He lives in Charlotte, North Carolina.
Praise For…
---
Marvel's inescapable obsolescence is the best argument for MCU; the genre should be studied with the same rigor as film noir. The book's admiration for Marvel movies works in its favor, freeing the writers to skip straight to the gossip, like the relative who pulls you aside at Thanksgiving to whisper about your cousin's divorce.

— Amy Nicholson - New York Times

MCU is a thoroughly reported history of the world-conquering movie company and its products. Robinson, Gonzales and Edwards set out to write 'the most thorough, authoritative history of Marvel Studios to date,' and that is exactly what they have done. In the gap between power and its parody, between heroism and humiliation, glints something far more arresting than the most impressive special effects: humanity, with its airs and affectations and occasional flares of unexpected valor.

— Becca Rothfeld - Washington Post

Over the course of more than 500 pages and hundreds of interviews, the authors explore how an iconic 20th-century comic-book brand pretty much willed itself into becoming this century's most potent box-office force. The focus is not on a critical dissection of the individual movies; instead, the book concerns itself with the people and decisions that have shaped Marvel Studios from before Iron Man through today. With The Marvels' box-office performance (or lack thereof) prompting a wave of stories about the studio at a crossroads, this feels like a potential epitaph for the company's first epoch.

— Josef Adalian - Vulture

A highly entertaining, well-researched, wide-ranging, detailed, and objective examination of one of the greatest Hollywood success stories. Documenting this specific story illuminates the universal story of big-budget studio filmmaking in the 21st century. There will never be another story like the Marvel Studios story, and maybe there shouldn't be. But those who want to understand this phenomenal story can do no better than read MCU: The Reign of Marvel Studios.

— Michael Curley - PopMatters

Not to skip to the post-credits scene, but the book is necessary reading for anyone who fancies themselves an MCU fan... Honest and unmerciful... [MCU] delivers a wealth of new context... It's a testament to the authors that the narrative thread remains easy to follow given the growing expanse of Marvel Studios' reach.... There is no better document charting Marvel's improbable rise and total disruption of the Hollywood paradigm.... Readers are sure to learn something new on every page, from which MCU stars first auditioned for roles years earlier to exactly what happened with Edgar Wright's Ant-Man. A volume of trivia, drama, and humor, MCU: The Reign of Marvel Studios belongs on every Marvel fan's bookshelf.

— Carlos Freytes - Agents of Fandom

MCU reveals the real saga behind the Marvel Cinematic Universe.... A fresh backstage perspective into the successes, failures, and twists that have spanned Marvel's long production history. I thought I knew everything there was to know about the MCU, but the book is filled with revelations I never imagined... [MCU] is not only enlightening, but enthralling.

— Cosmic Circus

A superb chronicle of how Marvel Studios conquered Hollywood…. This definitive account of the Hollywood juggernaut thrills.
— Publishers Weekly, starred review

[A] compulsively readable book... Marvel fans and film aficionados alike will appreciate this highly recommended, smashing insider look at one of entertainment's greatest success stories.
— Library Journal, starred review

The book every MCU fan needs to read.

— Alan Sepinwall, author of The Sopranos Sessions

A deeply researched and engagingly written spin through Marvel history that gives credit where it's due, without papering over cracks. Even the biggest fan will find new revelations and new perspectives in the often first-hand accounts of the studio's climb to world dominance.
— Helen O'Hara - Empire Magazine

A riveting, deeply researched history of the collaborative wizardry and backstage showdowns behind Marvel Studios' popcorn-movie empire.
— Douglas Wolk, author of All of the Marvels

A gift. Comprehensive, accessible, and entertaining, MCU makes for a great primer on a modern pillar of Hollywood entertainment.

— Nicholas Quah, Vulture and New York Magazine

Robinson, Gonzales, and Edwards deliver the definitive chronicle of the greatest cinematic achievement of all time. An absolute treasure trove of depth and detail that will delight both new Marvel fans and Marvel zombies from way back, like me.
— Jeff Cannata

I thought I was an authority on the Marvel Cinematic Universe, but I was wrong. This impeccably researched and reported tome is both a propulsive page turner and a real peek behind the curtain into how you build a cultural phenomenon, brick by obsessive brick.
— Marc Bernardin, screenwriter and comic book author