Back to top
Think and Grow Rich (Paperback)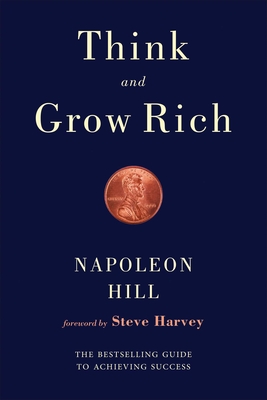 $9.99

Usually Ships in 1-5 Days
Description
---
The single greatest guide to achieving success ever written, featuring a new foreword by television star and entrepreneur Steve Harvey!

Think and Grow Rich, first published in 1937, took more than twenty years of research to compile. Napoleon Hill was a journalist and writer who later served as an advisor to President Franklin D. Roosevelt from 1933 to 1936. His big break came with his interview of Andrew Carnegie in 1908. Intrigued by Carnegie's assertion that the path to success could be broken down into a simple yet comprehensive formula, Hill accepted Carnegie's challenge to study and interview more than five hundred extremely successful individuals to determine to what they owed their vast achievements.

This masterwork identifies thirteen principles that every person should adopt if they are serious about achieving success—all are empirically based in the aforementioned decades of research. Hill has synthesized what wealthy and/or exceptionally successful individuals have in common. This classic guide is one of the bestselling books of all time, having sold twenty million copies by Hill's death in 1970. With razor focus, desire, persistence, and perseverance you too can join the likes of Thomas Edison, Henry Ford, and Andrew Carnegie.
About the Author
---
Napoleon Hill was born in a rural Appalachian town called Pound, Virginia in 1883. He began writing at the young age of thirteen for local newspapers. His career progressed to more freelance jobs until it led to his pivotal interview with Andrew Carnegie, which launched his twenty years of researching the method by which powerful individuals achieve their success. His findings, published in Think and Grow Rich, brought him great success in turn as it made him one of the best-selling authors of all time. In addition to his career in journalism and writing, he served as an advisor to President Franklin D. Roosevelt from 1933 to 1936. Hill passed away at age eighty-seven in South Carolina in 1970.

Steve Harvey is a Daytime Emmy–award-winning comedian, radio personality, actor, television host, and author of several bestselling self-help books including Act Like a Lady, Think Like a Man and Act Like a Success, Think Like a Success. He hosts the nationally syndicated radio program The Steve Harvey Morning Show, the talk show Steve Harvey, and the game show Family Feud. He splits his time between Chicago and Atlanta.