Back to top
Kindred: Neanderthal Life, Love, Death and Art (Paperback)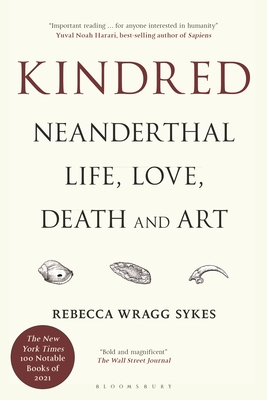 $20.00

Usually Ships in 1-5 Days
Description
---
"Kindred is important reading not just for anyone interested in these ancient cousins of ours, but also for anyone interested in humanity."--The New York Times Book Review

"[A] bold and magnificent attempt to resurrect our Neanderthal kin."--The Wall Street Journal

In Kindred, Neanderthal expert Rebecca Wragg Sykes shoves aside the cliché of the shivering ragged figure in an icy wasteland, and reveals the Neanderthal you don't know, our ancestor who lived across vast and diverse tracts of Eurasia and survived through hundreds of thousands of years of massive climate change. This book sheds new light on where they lived, what they ate, and the increasingly complex Neanderthal culture that researchers have discovered.

Since their discovery 150 years ago, Neanderthals have gone from the losers of the human family tree to A-list hominins. Our perception of the Neanderthal has changed dramatically, but despite growing scientific curiosity, popular culture fascination, and a wealth of coverage in the media and beyond are we getting the whole story? The reality of 21st century Neanderthals is complex and fascinating, yet remains virtually unknown and inaccessible outside the scientific literature.

Based on the author's first-hand experience at the cutting-edge of Palaeolithic research and theory, this easy-to-read but information-rich book lays out the first full picture we have of the Neanderthals, from amazing new discoveries changing our view of them forever, to the more enduring mysteries of how they lived and died, and the biggest question of them all: their relationship with modern humans.
About the Author
---
Rebecca Wragg Sykes has been fascinated by the vanished worlds of the Pleistocene ice ages since childhood, and followed this interest through a career researching the most enigmatic characters of all, the Neanderthals. After a PhD on the last Neanderthals living in Britain, she worked in France at the world-famous PACEA laboratory, Université de Bordeaux, on topics ranging from Neanderthal landscapes and territories in the Massif Central region of south-east France, to examining how they were the first ancient humans to produce a synthetic material and tools made of multiple parts.

Alongside her academic activities, she has also also earned a reputation for exceptional public engagement. The public can follow her research through a personal blog and Twitter account, and she frequently writes for the popular media, including the Scientific American and Guardian science blogs. Becky is passionate about sharing the privileged access scientists have to fascinating discoveries about the Neanderthals. She is also co-founder of the influential Trowelblazers project, which highlights women archaeologists, palaeontologists and geologists through innovative outreach and collaboration.

@LeMoustier
Praise For…
---
"Everything you ever wanted to know about our closest relative. Sykes has made a career studying Neanderthals, and she skillfully lays out a massive amount of information ... Solid popular science." —Kirkus Reviews

"Sykes, in her fine debut, draws on her expertise as an anthropologist to create an up-to-date depiction of the Neanderthals … she brings the history of this long-extinct species to life in assured fashion. " —Publishers Weekly

"[The] information that Sykes evocatively and enthusiastically presents enables readers to appreciate Neanderthals as sentient creatures, and possibly imagine themselves sharing, Jean Auel–like, a Pleistocene encounter with them. Every library needs its science up to date; Sykes delivers." —Booklist, starred review

"Rebecca Wragg Sykes aims to tell a complete new story about Neanderthals. She has done a remarkable job synthesizing thousands of academic studies into a single accessible narrative. From her pages emerge new Neanderthals that are very different from the cartoon figures of old. Kindred is important reading not just for anyone interested in these ancient cousins of ours, but also for anyone interested in humanity." —New York Times Book Review

"[T]hrough painstaking forensic analysis of an eclectic collection of fragmented artifacts, and in a manner at times achieving the suspense and excitement of a Hollywood thriller, Ms. Wragg Sykes makes a bold and magnificent attempt to resurrect our Neanderthal kin." —The Wall Street Journal

"Beautiful, evocative, authoritative. Kindred is a beautifully written exploration of our fast-developing understanding of Neanderthals and their culture and a compelling insight into how modern science is revealing the secrets of an extinct species who, for 350 thousand years before Homo Sapiens became dominant, inhabited a world 'as wide and rich as the Roman Empire.'" —PROFESSOR BRIAN COX, physicist and TV presenter

"Blending cutting-edge science with lyrical storytelling, Rebecca Wragg Sykes paints a detailed portrait of our enigmatic relatives." —PROFESSOR ALICE ROBERTS, anatomist, author and broadcaster

"Kindred is a tour de force. A rich and beautiful synthesis of all that is known about Neanderthal biology and culture, it should be required reading for anyone interested in the history of humanity." —DR TORI HERRIDGE, palaeontologist and TV presenter

"Eminently readable, creatively constructed, Sykes' work on Neanderthals is like no book you've read before on the subject." —PROFESSOR LEE R. BERGER, University of Witswatersrand

"Wragg Sykes paints a fascinating picture of a field transformed almost beyond recognition over the past 30 years." —New Scientist

"Rebecca Wragg Sykes's book paints a vivid portrait of our adaptable ancient relatives ... immersive." —Nature

"Rebecca Wragg-Sykes's fact-packed but highly readable book puts us right with a superbly authoritative guided tour of much new evidence. It's tempting to say. "If you read only one book about the Neanderthals, read this one" -- except that if the next 20 years provide as many revelations about our ancestors as the past 20 have done, she will need to produce just as weighty a second volume." —The Times

"Kindred is an informative and authoritative book that will appeal to budding Neanderthal investigators and all interested in learning more about the applications of modern analysis and recent interpretations of archaeological/paleontological finds." —Choice Magazine

"Sykes is a paleolithic archeologist as well as a good science writer, giving context to findings and changing archeological methods…Even if you keep up with Neanderthal discoveries in the news (like I do), this book is great for organizing those findings wholistically" —Popular Science

"Smug Homo sapiens have long looked down on Neanderthals, like city folk sneering at country cousins. Snort. You couldn't even not go extinct. But these hominins have always gotten a bad rap, and Rebecca Wragg Sykes's affectionate synthesis of a revolution in scientific understanding shows just how bad. Rather than dimwitted brutes, Neanderthals were human beings whose brains were as big or bigger than ours, who ranged from the British Isles to the Chinese border to the deserts of Arabia, who created sophisticated stone tools and developed complex adhesives such as birch tar, and who lived successfully in an ever-changing climate for more than three hundred thousand years. Oh, and interbred with Sapiens to the extent that two to three percent of our genes come from them. These people were smart, adaptable, and clever, and while there are plenty of lessons to be found in their experience (and extinction), the Kindred message that lingers longest is respect. Way overdue respect" —Adventure Journal