Back to top
Leading Lady: A Memoir of a Most Unusual Boy (Hardcover)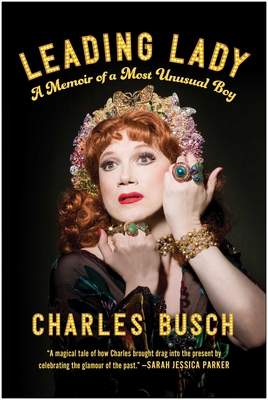 $27.95

Usually Ships in 1-5 Days
Description
---
A poignant, deliciously anecdotal account of a talented artist's Oz-like journey in the worlds of Off-Broadway, Broadway, and Hollywood

The Tony Award-nominated writer of The Tale of the Allergist's Wife and the long-running hit Off-Broadway play Vampire Lesbians of Sodom, and a Sundance Festival award winner, Charles Busch has created a unique place in the entertainment world as a playwright, LGBT icon, drag actor, director, and cabaret performer, with his extraordinary gift for both connecting with and channeling the leading ladies of show business.

In wonderfully readable chapters, by turns comic and moving, Charles writes how ever since his mother's death when he was seven, he has sought out surrogate mothers in his life. In his teens, Charles moved to Park Avenue in Manhattan to live with his Auntie Mame-like Aunt Lil, who encouraged and nourished Charles' talents and dreams, and eventually he discovered his gifts for writing plays and performing as a male actress.

Busch also shares his colorful and sometimes outlandish interactions with film and theatrical luminaries including the hilarious comedian Joan Rivers (who became a mother figure to Charles after Aunt Lil's death), Angela Lansbury (who attended her first Passover seder with Charles), Rosie O'Donnell, Claudette Colbert, Valerie Harper, Kim Novak, and many others.

Full of both humor and heart and featuring rare photos, Leading Lady is for readers of entertainment books as well as anyone who enjoys real-life stories of artists who break the mold, ditch the boundaries, and find their own unique way to sparkle.
About the Author
---
Charles Busch is an actor, playwright, and drag legend. He is the author and star of many plays, including Vampire Lesbians of Sodom, one of the longest-running plays in Off-Broadway history. His play The Tale of the Allergist's Wife played 777 performances on Broadway and received a Tony nomination for Best Play. Busch wrote and starred in the film versions of his plays Psycho Beach Party and Die Mommie Die, the latter of which won him the Best Performance Award at the Sundance Film Festival. He has been honored with a special Drama Desk Award for career achievement as both performer and playwright and he also received the Flora Roberts Award for Sustained Achievement in the theater by the Dramatist's Guild.