Back to top
The Premonition: A Novel (Hardcover)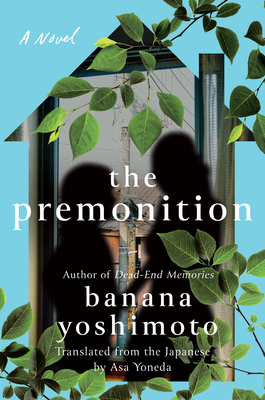 $24.00

Usually Ships in 1-5 Days
October 2023 Indie Next List
---
"Have you ever felt haunted by something from your childhood? A vague memory on the edge of remembrance? Yoshimoto unravels hidden grief, loneliness, and family secrets in The Premonition. Originally published in the '80s, this is timeless."
— Jenny Gilroy, E. Shaver, Bookseller, Savannah, GA
Description
---
The internationally beloved author of Kitchen and Dead-End Memories returns with a beautiful and heartfelt story of a young woman haunted by her childhood and the inescapable bitterness that inevitably comes from knowing the truth

Yayoi, a 19-year-old woman from a seemingly loving middle-class family, has lately been haunted by the feeling that she has forgotten something important from her childhood. Her premonition grows stronger day by day and, as if led by it, she decides to move in with her mysterious aunt, Yukino.

No one understands her aunt's unusual lifestyle. For as long as Yayoi can remember, Yukino has lived alone in an old gloomy single-family home, quietly, almost as though asleep. When she is not working, Yukino spends all day in her pajamas, clipping her nails and trimming her split ends. She eats only when she feels like it, and she often falls asleep lying on her side in the hallway. She sometimes wakes Yayoi at 2:00 a.m to be her drinking companion, sometimes serves flan in a huge mixing bowl for dinner, and watches Friday the 13th over and over to comfort herself. A child study desk, old stuffed animals—things Yukino wants to forget—are piled up in her backyard like a graveyard of her memories.

An instant bestseller in Japan when first published in 1988, The Premonition is finally available in English, translated by the celebrated Asa Yoneda.
About the Author
---
BANANA YOSHIMOTO is the author of the international bestseller Kitchen. She has published ten books in English translation, including Goodbye Tsugumi, Moshi Moshi, and most recently, Dead-End Memories. Her work has been translated and published in more than thirty countries. In Italy, she won the Scanno Literary Prize in 1993, the Fendissime Literary Prize in 1996, the Maschera d'Argento Prize in 1999, and the Capri Award in 2011. She lives in Tokyo.

ASA YONEDA is the translator of Banana Yoshimoto's Dead-End Memories and Moshi Moshi, as well as Idol, Burning by Rin Usami and The Lonesome Bodybuilder by Yukiko Motoya.
Praise For…
---
An Amazon Best Book of the Month
The Washington Post, A Must Read Book for Fall
Tokyo Weekender, A Most Anticipated Title
The Millions, A Most Anticipated Book of the Year
Library Journal, A Most Anticipated Book of the Year

"Fans of Kitchen, the 1988 debut that turned Yoshimoto into a sensation, will delight in Asa Yoneda's translation of The Premonition. [. . .] Luscious . . . Yoshimoto bucks beautifully against convention." —Maya Binya, The New York Times Book Review

"Casts a delicate spell . . . Between Yoshimoto and her translator, Asa Yoneda, there is something otherworldly . . . The novel taps into anxiety about memory, childhood and the peculiar feeling that there's a hidden truth about ourselves we've forgotten, and if only we took pains to find it we might finally feel at home." —Genevieve Gaunt, The Spectator

"The Premonition is a quick but effective read about allowing the secrets of the past to create a walkway into a truthful new future." —Jana Siciliano, Bookreporter

"Yoshimoto packs a lot of detail and intrigue in this spare novel . . . A bestseller over three decades ago, readers familiar with Yoshimoto's work will not want to miss this one. It is a welcomed addition to her oeuvre for English reading audiences and definitely worth the wait." —Shirley Quan, Library Journal (starred review)

"One of Japan's most beloved contemporary authors . . . Yoshimoto infuses the familiar coming-of-age experience (leaving home, separation from parents) with (of course) unusual twists." —Booklist

"Yoshimoto builds a satisfying narrative of a young girl figuring out who she is, and how her family may be more than she realized. While much of the plot hinges on Yayoi's preternatural intuitions, each step is carefully plotted to slowly unearth the secrets of the past. No word is misspent in Yoshimoto's taut tale." —Publishers Weekly

"The women in Yoshimoto's short stories and novels often have an aura of loneliness around them, an acknowledgment that what they are going through in this world, they are going through on their own. And yet, there is also an acceptance of this truth, and an accompanying resilience that makes them compelling—and that compels them forward in their lives, as they seek out answers, in order to live honestly, on their own terms, in their own truth." —Kristin Iversen