Back to top
Innovating in a Secret World: The Future of National Security and Global Leadership (Hardcover)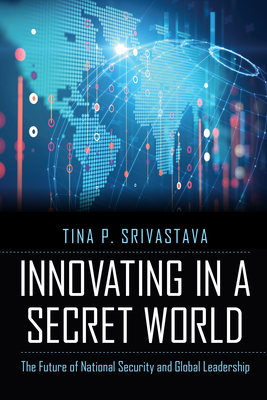 $29.95

Usually Ships in 1-5 Days
Description
---
Our national security increasingly depends on access to the most sophisticated and advanced technology. Yet the next time we set out to capture a terrorist leader, we may fail. Why? The answer lies in a conflict between two worlds. One is the dynamic, global, commercial world with its thriving innovations. The other is the world of national security, in which innovation is a matter of life or death. The conflict is about secrecy.

Innovating in a Secret World is a detailed examination of the U.S. government and innovation landscapes and of the current trends in often secret national security–related research and development (R&D). Based on case studies, detailed research, and interviews with executives at Fortune 500s, startup entrepreneurs, and military directors and program managers, this accessible and timely book is a must-read. Tina P. Srivastava evaluates whether the strategy of technology innovation in the world of national security leaves certain innovations behind or unintentionally precludes certain classes of innovators from participating. She identifies the unintended consequences and emergent behaviors of this conflict. This examination unfolds in a complex, dynamic system that includes the legal framework in which technology innovation must exist.

For more than a decade Srivastava has been on the front lines of cutting-edge technology innovation. She suggests focusing on an emerging class of R&D strategy called "open innovation"—a strategy that broadens participation in innovation beyond an individual organization or division traditionally assigned to perform R&D activities. Through compelling stories of commercial and early government applications, she shows how open technology innovation strategies can enable, accelerate, and enhance technology innovation. Successful incorporation of open innovation into the previously closed U.S. government R&D landscape can yield profound benefits to both national security and global leadership.
 Purchase the audio edition.
About the Author
---
Tina P. Srivastava is an innovator, entrepreneur, and technology expert. Her experience spans roles as chief engineer of electronic warfare programs at Raytheon to co-founder of a venture-backed security startup. She is an FAA-certified pilot and instructor of MIT's Pilot Ground School course. Srivastava earned her PhD in Strategy, Innovation, and Engineering, a masters in System Design and Management, and a bachelors in Aeronautics and Astronautics, all from MIT.
 
Praise For…
---
"In her new book, Innovating in a Secret World: The Future of National Security and Global Leadership, Tina Srivastava, PhD '15, examines why it's hard for the government to approach innovation like the private sector. . . . As Srivastava highlights in her book, there are two broad barriers to open innovation: Government regulations, and unintentional discouragement of new innovators for established companies."—Meredith Somers, MIT Management Sloan School

"'Our national security depends on advancements in science and technology,' writes Tina Srivastava, a former Raytheon engineer, and now an author, entrepreneur and technology expert. . . .  Srivastava ends the book with recommendations on how the government can foster innovation and increase the number of players participating in national security- related research and development."—National Defense

"Night-vision scopes, speech-to-text algorithms, and ultra-quiet helicopters are just some of the examples of technologies critical to our national security that are discussed in this book. As the rate of innovation of commercial ventures outpaces government-funded classified R&D, we need to ask some hard questions. This book provides a fascinating and provocative perspective that is grounded in rigorous research and deep industrial experience."—Olivier L. de Weck, professor of aeronautics and astronautics and engineering systems at MIT and senior vice president for technology planning and roadmapping at Airbus

"So much of the technology our modern society depends on has its roots in U.S. government-supported research, where national security and secrecy constraints are paramount. As the pace of innovation accelerates and the R&D center of gravity shifts, Srivastava gives a clear-eyed view of how to balance secrecy and innovation in the years to come."—Nathan Wiedenman, program manager of the first classified program seeking to use open innovation for the Defense Advanced Research Projects Agency

"In today's United States, government-sponsored research and national security are closely intertwined. A regulatory framework that 'gets it right' is a high-priority need. Srivastava's book is a major contribution to understanding some critical challenges facing this effort."—John Akula, senior lecturer in law at the MIT Sloan School of Management

"Crowd-sourced innovation is having a transformative impact in the commercial world and has strong potential for government programs as well. This book shows the critical connection between technical innovation, the law, and government policy and should be read by all three communities."—Brent Appleby, deputy to the vice president of engineering for S&T and director of algorithms and software at Draper Laboratory