Back to top
Our Daily Biscuit: Devotions with a Drawl (Hardcover)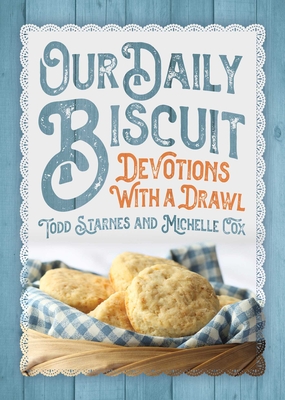 $16.99

Usually Ships in 1-5 Days
Description
---
Pull up a rocking chair and join us for humorous and poignant stories of faith, family, food, and our Southern heritage in Our Daily Biscuit: Devotions with a Drawl.

There's something special about country living in the South. Travel rural roads and find beauty that takes your breath away and peace that seeps into your soul. Gather around a farmhouse table and enjoy some of the best cooking you'll ever encounter. Read from an old family Bible that's falling apart from use, and discover the heritage of a deep and abiding faith that's been handed down from generation to generation—the most priceless gift our ancestors had to leave behind.

Our Daily Biscuit: Devotions with a Drawl is a celebration of faith, family, food, and the authors' Southern heritage. Each chapter features a verse of Scripture, a funny or poignant story about Southern culture—with a devotional tie-in to bless your day or make you think—a prayer, and questions to help you deepen your relationship with God. There are even recipes from some of those fabulous Southern cooks sprinkled throughout.

In the South, the welcome mat is always out, so invite your family and friends to share a heaping helping of Our Daily Biscuit: Devotions with a Drawl, and then enjoy your day with hearts, souls, and bellies that are filled to overflowing.
About the Author
---
Todd Starnes is a nationally syndicated radio host, award-winning columnist, and bestselling author of five books. He is a veteran journalist who worked for more than a decade at Fox News Channel in New York City. Todd lives in Memphis, Tennessee—the headquarters of Starnes Media Group and KWAM AM/FM. He is the recipient of an RTDNA Edward R. Murrow Award and Associated Press Mark Twain Award for Storytelling. His website is ToddStarnes.com.

Known for her "encouragement with a Southern drawl," Michelle Cox can respond to thirty-five different situations using just the words "bless your heart." With the proper inflections, facial expressions, and body language, of course. A bestselling and award-winning author, she's written or contributed to thirty books, for multiple publications at Focus on the Family, and for FoxNews.com, Christian Cinema, Guideposts, Leading Hearts Magazine, and numerous other publications and sites. A popular speaker, interview guest, retreat leader, and conference faculty member, Michelle loves to pair humorous, poignant, and nostalgic stories—especially Southern stories—with faith-filled messages that provide hope and encouragement and draw readers closer to God.
Praise For…
---
"Todd and Michelle have delivered a heartwarming collection of devotions that will satisfy your soul—like a hot plate of biscuits!"
— Dr. Robert Jeffress, First Baptist Church, Dallas

"This book is a buttermilk biscuit for the soul."
— Governor Mike Huckabee

"Southerners are known for many things. Their charm. Soft drawls. Fine cooks. Amazing (and sometimes over the top) stories. And a deep and abiding faith. Todd Starnes and Michelle Cox feature all of those things in their new devotional book, Our Daily Biscuit: Devotions with a Drawl. (Even if you aren't from the South, they'll still welcome you into the family). So pick up a copy today. You'll laugh, wipe tears away, draw closer to God, and even find some recipes from those great Southern cooks. What could be better than that?"
— Brian Bird, Co-Creator and Executive Producer of "When Calls the Heart"

"You're gonna love these Devotions with a Drawl. Matter of fact, you might 'drool' over them like 'The Swan!' Get yourself a napkin and a cup of coffee and be fed spiritually and emotionally. You might want to grab a biscuit as well."
— Dennis Swanberg ("The Swan"), America's Minister of Encouragement

"What could be finer than biscuits and gravy? Biscuits and devotions! in Our Daily Biscuit: Devotions with a Drawl, Todd Starnes and Michelle Cox share funny and poignant stories about colorful Southern characters, devotions, recipes, prayers, and Bible verses, and then they add a little gravy on top with questions for reflection. I can promise you've probably never read a devotional book quite like this before, but you'll be glad you did (even if you're just a Southern wanna-be)."
— Megan Alexander, National Correspondent for Inside Edition, Author and Mom

"Are you from the South? You'll love this book. Those of you from the North, East, and West will too. Todd and Michelle bring bursts of side-splitting laughter, tons of out-of-this-world Southern food (yes, there are recipes!) and a whole lot of Jesus in this much-needed devotional. Truly, in this day and time, I can't think of a better combination. I laughed. I snickered—there might have even been a guffaw or two—but mostly, I drew closer to Jesus. I highly recommend this book. And the recipes."
— Lynette Eason, Award-Winning, Bestselling Author of the "Danger Never Sleeps" series