Back to top
Clean Air (Hardcover)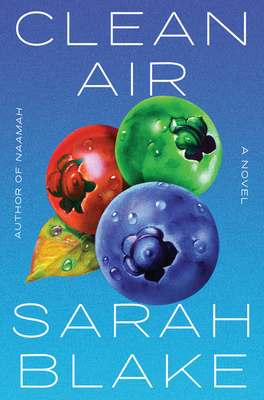 $26.95

Coming Soon - Available for Pre-Order Now
Description
---
"An amazing blend of page-turning mystery, important commentary about environmental destruction, and poignant portraiture of maternal love. Sarah Blake is a poet, and it shows in her economical prose, distilled insights, and wonderfully disturbing imagery." —ANGIE KIM, author of Miracle Creek
 
The climate apocalypse has come and gone, and in the end it wasn't the temperature climbing or the waters rising. It was the trees. The world became overgrown, creating enough pollen to render the air unbreathable.

In the decade since the event known as the Turning, humanity has rebuilt, and Izabel has gotten used to the airtight domes that now contain her life. She raises her young daughter, Cami, and attempts to make peace with her mother's death. She tries hard to be satisfied with this safe, prosperous new world, but instead she just feels stuck.

And then the peace of her town is shattered. Someone starts slashing through the domes at night, exposing people to the deadly pollen—a serial killer. Almost simultaneously, Cami begins sleep-talking, having whole conversations about the murders that she doesn't remember after she wakes. Izabel becomes fixated on the killer, on both tracking him down and understanding him. What could compel someone to take so many lives after years dedicated to sheer survival, with humanity finally flourishing again?

Suspenseful and startling, but also written with a wry, observant humor, Clean Air is the second novel from poet Sarah Blake, author of the award-winning literary debut Naamah. It will appeal to readers of The Need, The Leftovers, and Fever Dream as it probes motherhood, grief, control, and choice.
 
About the Author
---
Sarah Blake's novel Naamah won the National Jewish Book Award for Debut Fiction. Blake is also the author of the poetry collections Mr. West and Let's Not Live on Earth. In 2013, she was awarded a literature fellowship from the National Endowment for the Arts. She currently lives in the UK.
 
Praise For…
---
"[An] engrossing and suspenseful tale that simultaneously delivers a lyrical homage to motherhood and a piercing vision of the fragility of humankind's relationship with the natural world."
—Booklist

"The skillful blend of postapocalyptic science fiction, supernatural murder mystery, and domestic drama is unexpected and entirely engrossing."
—Publishers Weekly

"Interesting . . . A quick read with a timely premise."
—Kirkus Reviews

"Clean Air is an amazing blend of page-turning mystery, important commentary about environmental destruction, and poignant portraiture of maternal love. Sarah Blake is a poet, and it shows in the way she takes her brilliant premise to another level with her economical prose, distilled insights, and wonderfully disturbing imagery."
—Angie Kim, author of Miracle Creek

"Clean Air is the work of a rare and casually powerful literary imagination. It is set in a future that feels all too real, a post-apocalyptic novel that is both a family story and a thriller. It's a remarkable book, a compelling read that haunts with its astuteness."
—Joan Silber, author of Improvement

"Sarah Blake's novel Clean Air provides the suspense of a first-rate thriller with nuanced characters whose world is shifting due to climate catastrophes. I turned the pages fast, wanting to know what happens and caring about the characters equally. The writing sings us into a future filled with chaos but also hope and beauty."
—Toni Jensen, author of Carry

"Sarah Blake's Clean Air is both a scintillating hunt for a serial killer and a pollen-flecked meditation on what we owe each other and the planet. I loved every page and didn't want it to end." 
—Katie Williams, author of Tell the Machine Goodnight

"Sarah Blake has travelled into the future to create a precise portrait of motherhood in this current moment, complete with one of the most fully realized children I have ever met on the page. Told with a poet's economy and logic, Clean Air is a clear-eyed look at the terror and tenderness of motherhood, and a parent's ordinary devotion in an extraordinary world. Be warned: you might not be able to put this book down until you reach its final page (and you'll enjoy every minute of it)."
—Shruti Swamy, author of A House Is a Body

"Clean Air is a moving, suspenseful page-turner set in an eerily perfect post-apocalyptic bubble of climate demise. It's a beautiful and harrowing story of motherhood and the fight for a hopeful future for the ones we love. Sarah Blake's vivid and sharp observations of family, grief, and a world on the brink of collapse are so compelling that I eagerly raced to the last page. I couldn't put it down." 
—Crissy Van Meter, author of Creatures