Back to top
Carving Miniature Duck Decoys (Paperback)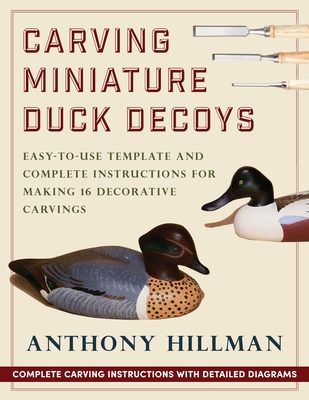 $16.95

Usually Ships in 1-5 Days
(This item is non-returnable and must be pre-paid.)
Description
---
Use This Guide to Create Miniature Life-like Decoys
Creating wooden duck decoys has long been an integral part of game hunting. Today, the craftmanship has moved to creating miniatures that can beautify your home. The tools and materials needed are easy to obtain, and with Anthony Hillman's expert guidance you will have all you need to establish your collection.
In Carving Miniature Duck Decoys, Hillman, an expert decoy carver and wildlife illustrator, has put together step-by-step instructions and exact-size templates which can be placed on the wood to make sizing a breeze. This collection of duck decoys includes 16 different species of beautiful waterfowl:
Mallard
American Wigeon
Green-winged Teal
Blue-windged Teal
Northern Shoveler
Common Pintail
Wood Duck
Canvasback
Redhead (or Scaup)
Ruddy Duck
Bufflehead
Common Eider
Hooded Merganser
Oldsquaw
Common Goldeneye
Red-breasted Merganser
Included in this guide is expert advice on choosing wood, how to mark the wood and prepare it for carving, how to sand, seal, and paint the decoys, and tips for avoiding common mistakes. Color photographs of finished decoys aid in getting the colors just right.
Whether you're just starting out or have a collection you wish to add to, this guide will provide you with the advice you need to create beautiful miniature decoys.
Be sure to add other guides by Anthony Hillman, published by Echo Point Books, to your library: Painting Duck Decoys, Carving Traditional Fish Decoys, Carving Waterbirds, Painting Shorebird Decoys, and Carving Favorite Songbirds.