Back to top
The Bravest Warrior in Nefaria (Hardcover)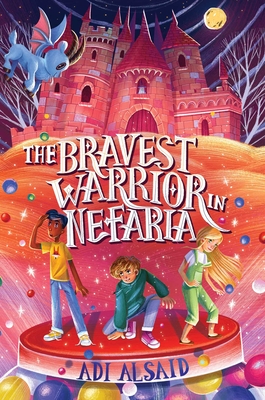 $18.99

Usually Ships in 1-5 Days
Description
---
Phineas and Ferb meets the Despicable Me series in this hilarious and heartwarming middle grade debut from acclaimed author Adi Alsaid about a wannabe hero who lives in a goofily evil kingdom where nefarious schemes abound.

Welcome to Nefaria, where nearly every day the kingdom faces another evil scheme.

Most are harmless, though, so the citizens of Nefaria simply learn to live with the latest hijinks and go on with their lives. This includes Bobert Bougainvillea, who is much more concerned with the fact that he seems to be invisible. From the teachers in his school to his classmates, almost no one notices Bobert, no matter how visible he tries to be. Then everything changes when Bobert follows his classmates to a cursed gumball machine.

Before he knows it, Bobert is sucked into one of Nefaria's most villainous evil schemes, a plot that has been a long time in the making—too long, in the evil wizard Matt's opinion. And retreating into invisibility this time won't do, not when Bobert is the only one with the drive, knowledge, and—if his newfound courage doesn't fail him—bravery to foil Matt's plan.
About the Author
---
Born and raised in Mexico City, Adi Alsaid is the author of several young adult novels including Let's Get Lost, We Didn't Ask for This, and North of Happy, a Kirkus Best Book nominee. He also wrote the middle grade book The Bravest Warrior in Nefaria and edited Come on In: 15 stories about Immigration and Finding Home. He currently lives in Chicago with his wife and two cats, where he occasionally spills hot sauce on things (and cats).
Praise For…
---
"Fanciful, humorous, and original."
— --Kirkus Reviews

"Delightfully wacky, hilariously absurd, and perfectly relatable. It's just plain fun!"
— Chris Rylander, author of The Legend of Greg