Back to top
What We Kept to Ourselves: A Novel (Hardcover)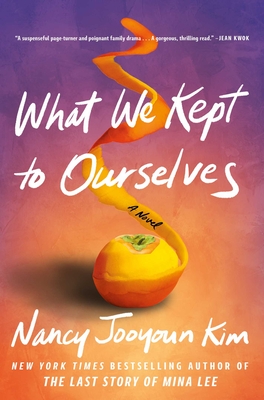 $27.99

Usually Ships in 1-5 Days
Description
---
This timely and surprising novel about a family's search for answers following the disappearance of their mother from the New York Times bestselling author Nancy Jooyoun Kim explores "immigration, identity, love, and loss. A gorgeous, thrilling read" (Jean Kwok, New York Times bestselling author).

1999: The Kim family is struggling to move on after their mother, Sunny, vanished a year ago. Sixty-one-year-old John Kim feels more isolated from his grown children than ever before. But one evening, their fragile lives are further upended when John finds the body of a stranger in the backyard, carrying a letter to Sunny, leaving the family with more questions than ever.

1977: Sunny is pregnant and has just moved to Los Angeles from Korea with her aloof and often-absent husband. America is not turning out the way she had dreamed it to be, and the loneliness and isolation are broken only by a fateful encounter at a bus stop. The unexpected connection spans the decades and echoes into the family's lives in the present as they uncover devastating secrets that put not only everything they thought they knew about their mother but their very lives at risk.

Both "an intricately crafted mystery and a heart-wrenching family saga" (Michelle Min Sterling, New York Times bestselling author), What We Kept to Ourselves masterfully explores what it means to dream in America.
About the Author
---
Nancy Jooyoun Kim is the New York Times bestselling author of What We Kept to Ourselves and The Last Story of Mina Lee, a Reese's Book Club pick. Born and raised in Los Angeles, she now lives in the San Francisco Bay Area.
Praise For…
---
"What We Kept to Ourselves is both a suspenseful page-turner and a poignant family drama. Kim's beautiful, thoughtful prose illuminates themes of immigration, identity, love, and loss. A gorgeous, thrilling read!"—Jean Kwok, New York Times bestselling author of Girl In Translation

"Bursting with yearning, twists, and secrets, What We Kept to Ourselves is about the difficult questions that die in our throats when it comes to asking our loved ones. A triumph!"—Frances Cha, author of If I Had Your Face

"A gorgeous literary novel featuring poetic prose and a propulsive mystery. What We Kept to Ourselves is a moving story about immigration, family secrets, and human connection. Truly a masterpiece that I couldn't put down."—Emiko Jean, author of Mika in Real Life

"A powerful tribute to the bonds between the least privileged, each page of What We Kept to Ourselves pulses with stunning detail and deep insight. I couldn't put it down."—Margaret Wilkerson Sexton, bestselling author of On the Rooftop

"Kim's second novel is hard to put down, unique, haunting, and beautifully written, as the author slowly weaves layer upon layer in an intricate, mysterious web."—Booklist, starred review

"Layers after layers of mystery are revealed with each chapter of this exquisitely written novel. What We Kept to Ourselves is a compelling, poetic, important, thought-provoking, and unforgettable read. Nancy Jooyoun Kim is a master storyteller who has the power to keep us spellbound and reminds us what we must do to make this world a better place."—Nguyen Phan Que Mai, internationally bestselling author of The Mountains Sing and Dust Child

"Nancy Jooyoun Kim has crafted a moving, propulsive story about a family haunted by secrets. What We Kept To Ourselves spans the intimately personal to the urgently political to investigate how the traumas of the past shape the human experience. This is a probing, sharp novel about family, loss, desire, grief, the search for justice, and so much more."—Crystal Hana Kim, author of If You Leave Me

"Nancy Jooyoun Kim's What We Kept to Ourselves illuminates the glacial secrets among a family that crackle under a glass lens. Through the brushstrokes of tragedy and grief and mystery, Kim interrogates how a forgotten past bleeds into the choices we make in our everyday lives."—E. J. Koh, author of The Liberators

"What We Kept to Ourselves is a nail-biting thriller with hairpin turns, a generational saga, a love story, an unsparing look at belonging and unbelonging in America today and the abject joys of food, family, forgiveness. I can't stop thinking about the Kim family. A glorious achievement!" —Marie Myung-Ok Lee, author of The Evening Hero

"A propulsive mystery about yearning, loneliness, and duty (but to and for whom?). Kim is a masterful wordsmith, tackling brittle topics with grace, urgency, and most importantly, hope. This book is a call to action, and a reminder that it's never too late to live the life you've always wanted."—Carolyn Huynh, author of The Fortunes of Jaded Women

"Those of us who love southern California know it's an entire universe where people's dreams and loves and families orbit and dance and collide in neighborhoods as diverse as the world. Nancy Jooyoun Kim knows Los Angeles so deeply that her novel brings to life loquat trees, the melancholy of staying where new roots sometimes cannot flourish, and the geography of neighbors and strangers whose loyalties turn into what might be love." —Susan Straight, National Book Award Finalist and author of In the Country of Women

"What We Kept to Ourselves is an intricately crafted mystery and a heart-wrenching family saga. Nancy Jooyoun Kim writes with a piercing moral clarity, suffusing every page with emotional depth. Fiery, bittersweet and complex, this is a novel of incredible conviction and empathy."—Michelle Min Sterling, New York Times bestselling author Camp Zero

"What We Keep to Ourselves is a breathtaking literary force of a novel. With melodious prose, Nancy Jooyoun Kim has crafted a page-turning mystery with thoughtful meditations on family, love, and connection. This novel is a searing portrait on how long-buried secrets, desperate hopes, and blind compromises shape the decisions that affect generations to come. Kim is a master storyteller!"—Catherine Adel West, author of Saving Ruby King