Back to top
The Hive and the Honey: Stories (Hardcover)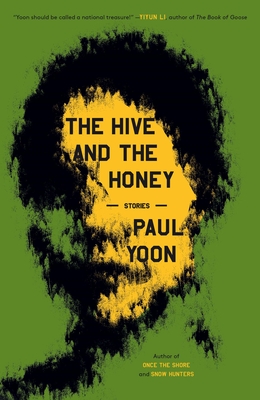 $26.00

Usually Ships in 1-5 Days
October 2023 Indie Next List
---
"Paul Yoon portrays 400 years of violence suffered by Korean people, dispersed by uncontrollable events with profound consequences on their lives. His concise, incisive stories bring all of these tales to life and probe universal truths."
— Bill Cusumano, Square Books, Oxford, MS
Description
---
A Library Journal Best Book of 2023
A New York Public Library "Best Books of 2023" Pick
Longlisted for the Joyce Carol Oates Prize
A New York Times, Time, and Literary Hub most-anticipated book of the fall.

From the beloved award-winning author Paul Yoon comes a spectacular collection of unique stories, each confronting themes of identity, belonging, and the collision of cultures across countries and centuries.

A boy searches for his father, a prison guard on Sakhalin Island. In Barcelona, a woman is tasked with spying on a prizefighter who may or may not be her estranged son. A samurai escorts an orphan to his countrymen in the Edo Period. A formerly incarcerated man starts a new life in a small town in upstate New York and attempts to build a family.

The Hive and the Honey is a bold and indelible collection by celebrated author Paul Yoon, one that portrays the vastness and complexity of diasporic communities, with each story bringing to light the knotty inheritances of their characters. How does a North Korean defector connect with the child she once left behind? What are the traumas that haunt a Korean settlement in Far East Russia?

Lauded as a "quotidian-surreal craft-master" (New York magazine), Yoon's stunning stories are laced with beauty and cruelty, and The Hive and the Honey is the work of an author writing at the very height of his powers.
About the Author
---
Paul Yoon is the author of four previous works of fiction: Once the Shore, which was a New York Times Notable Book; Snow Hunters, which won the Young Lions Fiction Award; The Mountain, which was an NPR Best Book of the Year; and Run Me to Earth, which was one of Time magazine's Must-Read Books of 2020 and longlisted for the Andrew Carnegie Medal for Excellence in Fiction. A recipient of a Guggenheim Fellowship, he lives in the Hudson Valley, New York.
Praise For…
---
""Absorbing...Yoon details fully realized and flawed characters attempting to wade through the complexities of immigrant life...[and] asks urgent questions about what it really means to belong somewhere." —TIME Magazine, 100 Must-Read Books of 2023

"In a quietly powerful short-story collection, Paul Yoon creates a kaleidoscopic portrait of the Korean diaspora. In these stories, one of which appeared in the magazine, Yoon's characters struggle to find a place for themselves in a world where life can be capricious and harsh, but sometimes marked by grace." —The New Yorker, The Best Books We Read This Week

"In seven virtuosic stories centering characters that include a 17th-century samurai and a contemporary New York immigrant, Yoon captures scenes of the Korean diaspora." —Vanity Fair, 13 New Books to Read This Month

"Paul Yoon masterfully explores the shared history, displacement, alienation, and the lasting effects of war....Yoon's lean and cutting prose dissects truth and inheritance, interweaves haunting tales with mundane lives, and reveals far-flung characters searching for home." —Electric Literature, "Electric Lit's Best Short Story Collections of 2023"

"Yoon's new short-story collection is another spare, controlled masterpiece, comprising seven exquisite stories highlighting the Korean diaspora scattered across time and oceans." —Terry Hong, Booklist (starred)

"Expansive, haunting and intimate, Paul Yoon's new short story collection The Hive and the Honey (Marysue Rucci Books, 2023) shows Yoon at the height of his powers. Following characters of the Korean diaspora throughout history and across geographies, the collection's stories ask essential questions about how we build families and homes." —Sabir Sultan, Pen America


"The Hive and the Honey comprises seven masterful short stories that span 500 years of Korean diaspora...Yoon's grandfather escaped North Korea, and the author's works deal fittingly with belonging, home, immigration, and identity." —TIME Magazine, The 15 New Books You Should Read in October

"Yoon's haunting, evocative new collection centers on themes of migration, displacement, collective memory and the Korean diaspora." —New York Times, 34 Works of Fiction to Read This Fall

"A complex look at alienation, identity, and the lasting effects of war.... Yoon's attention to historic detail makes these tales of displaced people all the more affecting."
—TIME Magazine, 36 Most Anticipated Books for Fall 2023

"Yoon carefully mingles the extraordinary with the everyday, evoking the natural world with simple yet striking language…This is an elegant exploration of life's brutal and beautiful moments."
—Publisher's Weekly

"The third short story collection (his first since 2017's The Mountain) from Young Lions Fiction Award-winner and Guggenheim fellow Yoon spans cultures and centuries, roving from small town New York, where a formerly incarcerated man tries to start a new life, to the Edo Period in Japan, where a Samurai escorts an orphan boy back to his countrymen. Yoon's 2020 novel-in-stories Run Me to Earth—a subtly devastating panoramic portrait of three lives displaced by war—was one of the standout books of that year, so I'm pretty damn excited for this one."
—Lit Hub (Most Anticipated Books of 2023)

"Stories that echo with the loss, regret, and hope of migrants and nomads."
—Kirkus

"Yoon weaves complex tales of belonging and identity, of cultures clashing and building upon each other to create the multitudes that exist within communities."

—Patricia Thang, BookRiot

The Hive and the Honey is much more than an exquisite, beautiful collection of short stories. Yoon roves geographic and historical points, catching stories of the Korean diaspora and, in the best way, the way of great literature, locates narratives that would disappear forever if he didn't find them, characters far from home, longing for home, finding ways to reconcile and embrace complex new landscapes. This is a book about all of us. If you let each of these wonderful stories into your soul, you'll feel the way I felt when I read this collection. I was in the hands of a vivid, powerfully honed imagination and came out better, more human, having learned something new about the world.
—David Means, author of Two Nurses, Smoking

"The stories in The Hive and the Honey are geographically and temporally diverse. Each opens an inviting door to a seemingly calm moment in life, only to cast the readers into the deep and murkey undercurrent of history. Amid violence are moments of gentleness; underneath darkness and bleakness are glimpses of light and humor. Yoon is a beautiful and beguiling writer, and should be called a national—or, international—treasure!
—Yiyun Li, Author of A Thousand Years of Good Prayers