Back to top
Alice Sadie Celine: A Novel (Hardcover)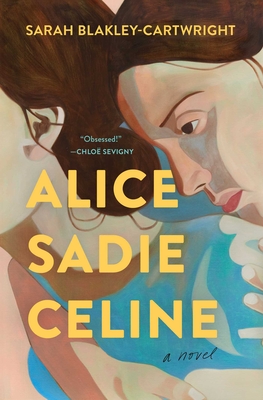 $26.99

Usually Ships in 1-5 Days
December 2023 Indie Next List
---
"Written in gorgeous prose that dives deeply into each of the three women's characters and backstories, with a level of suspense that kept me wondering how things would turn out in the end. This novel is unique and surprising. A great read."
— Christine Bell, Roundabout Books, Bend, OR
Description
---
"Obsessed!" —Chloë Sevigny
"I am literally obsessed." —Busy Philipps

A hypnotic, sexy, and incisive debut adult novel following one woman's affair with her daughter's best friend that tests the limits of love and ambition from #1 New York Times bestselling author of Red Riding Hood.

It's opening night, but Alice's performance in the local Bay Area production of The Winter's Tale is far from glamorous. She doesn't have dreams of stardom, but the basement theater in a wildfire-choked town isn't exactly what she envisioned for her career back home in Los Angeles. To make matters worse, her best friend Sadie is not even coming.

Pragmatic, serious Sadie and flighty, creative Alice have been best friends since high school—really one another's only friends—but now that they are through with college (which they attended together) and living on opposite ends of California, Alice would at least expect her friend's support. Sadie, determined not to cancel her plans with her boyfriend, ends up enlisting the help of her mother, Celine.

A professor of women's and gender studies at UC Berkeley, Celine's landmark treatise on sex and identity made her notorious, but she's struggling to write her new book in a post-second-wave feminist world. So, when Sadie begs her to attend Alice's play, she relents, if only to escape writer's block. But in a turn of perplexing events, Celine becomes entranced by Alice's performance and realizes that her daughter's once lanky, slightly annoying best friend is now an irresistible young woman.

Set over the course of decades—from Alice and Sadie's early friendship days and Celine's decision to leave her husband to the radical movements of 1990s Berkeley and navigating contemporary Hollywood—Alice and Celine's affair will test the limits of their love for Sadie and their own beliefs of power, agency, and feminism. Witty and relatable, sexy and surprising, Sarah Blakley-Cartwright's debut adult novel is a mesmerizing portrait of the inner lives of three very different women.
About the Author
---
Sarah Blakley-Cartwright is the author of Red Riding Hood, a #1 New York Times bestseller published worldwide in thirty-eight editions and fifteen languages. She is the editor of Hauser & Wirth's The Artist's Library for Ursula magazine. She is publishing director of the Chicago Review of Books, and associate editor of A Public Space.
Praise For…
---
"Blakley-Cartwright's stylish and quippy writing offers thoughtful commentary on the women's many-faceted, much-entangled relationships, and how they've shaped, and been shaped by, one another."
—BOOKLIST

"A heartfelt, smart, and keenly observed take on friendship and fulfillment, and what it means to start thinking of parents as actual people."
—TOWN & COUNTRY MAGAZINE

"A lighthearted romp, tinged with melancholy, that gently pokes fun at sexual mores and those who defy them."
—KIRKUS REVIEWS

"An elegant study of three women exploring their gender and sexuality… Packed with spiky insights. This satisfies the head and the heart."
—PUBLISHERS WEEKLY

"Obsessed! Each sentence of Alice Sadie Celine is chock full of playful irreverence for feminist and gender theory, hip popular culture references, and the wide breadth of what defines female sexuality."
—Chloë Sevigny

"I am literally obsessed."
—Busy Philipps, actress and New York Times bestselling author of This Will Only Hurt a Little

"The three unforgettable women in this novel remind me of the dancing figures in the Matisse painting, their secrets joyful and mysterious, their dramas delightful and powerful. Delicious and subversive, Alice Sadie Celine is a mesmerizing read."
—Yiyun Li, winner of the PEN Jean Stein Award, PEN Hemingway Award, and author of The Book of Goose and Where Reasons End

"Sarah Blakley-Cartwright subverts all kinds of expectations with this sharply drawn trio of strong-willed women. Vibrant, sensual, and full of irreverent humor, Alice, Sadie, Celine is an outstanding first novel."
—Idra Novey, author of Take What You Need

"Alice Sadie Celine is the story of a forbidden love triangle, of the complexities of female friendship, and of the inextricable bond between mothers and daughters. Taut, tense, sexy, and lucid, Sarah Blakley-Cartwright's debut adult novel is an unforgettable, irresistible, daring page-turner."
—Hannah Lillith Assadi, author of The Stars Are Not Yet Bells and Sonora

"Like Didion but with more warmth and a queer sensibility, Alice Sadie Celine is packed with so much of what I love in a book: tight prose, smart, fully realized characters grappling with inappropriate love affairs, and bright California land and light. It's extraordinarily lovely and I savored every word and didn't want it to end."
—Bethany Ball, Center for Fiction First Novel Prize Finalist and author of The Pessimists

"Here come three indelible women and, with them, one of contemporary fiction's most delicious love triangles. Sarah Blakley-Cartwright has written a gem of a novel – super smart, slyly sexy, and crackling throughout with kindhearted humor."
—Hermione Hoby, author of Virtue