Back to top
The Fabulist: The Lying, Hustling, Grifting, Stealing, and Very American Legend of George Santos (Hardcover)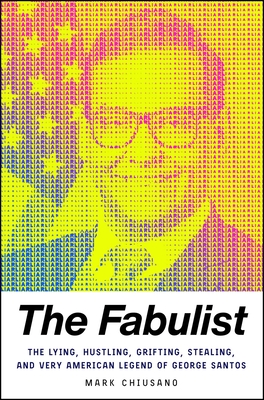 $28.99

Usually Ships in 1-5 Days
Description
---
"An ideal stocking stuffer for political junkies and voyeurs. This is a book Santos never wanted published. Truly." —The Guardian

From the dogged Long Island reporter who has been on his trail since 2019, the bizarre, page-turning, and frankly hysterical story of America's most outrageous grifter—former US Representative George Santos.

America has grown used to larger-than-life politicians: Teflon Don, AOC, MTG, Dark Brandon, and all the rest have injected DC politics with an unmistakable edge of celebrity flair and tabloid intrigue. Yet in 2022, a new player on the national scene outshone them all. George Anthony Devolder Santos, and his revolving door of pseudonyms, shed glaring new light on how far we'd all let our politics slide as his claimed resume was shred to bits in the wake of a longshot run to office from New York's 3rd Congressional District.

From Wall Street gigs to an amateur volleyball career, from embellished claims of Jewish heritage to a fabricated 9/11 story involving his mother's death, Santos's legend continued to grow as his web of lies evaporated in real time. And the only thing wilder than this charlatan embedding himself in the warm, consequence-evading arms of our nation's capital was the Queens con artist's refusal to bow his head in shame.

Newsday alum and PEN/Hemingway honoree Mark Chiusano tells the full (well, as full as can be given the subject) story of Santos here for the first time. From humble years spent in Brazil, to glamorous nights on the west side of Manhattan, to the stunning small-time scams employed to ease his slippery climb up the American society ladder, The Fabulist tells a story you'll have to read for yourself to believe…and even then, it's George Santos, so who's to say for sure.

Combining the very best of boots-on-the-ground journalism, dishy backroom dealings, and glittery details about Gold Coast mansions and bodice-baring drag shows that'd feel just as at home in your next summer beach read, The Fabulist is truly stranger than fiction.
About the Author
---
Mark Chiusano started covering George Santos in 2019 as a columnist and editorial writer at Newsday. His story collection Marine Park received a PEN/Hemingway Award honorable mention in 2015. His writing has appeared in places like The Atlantic, Time, The Paris Review, McSweeney's, The Drift, and Guernica, and he teaches at CUNY City Tech. He lives in his native Brooklyn with his wife and daughter.
Praise For…
---
"An engrossing look at Santos's rise and crashing fall. With detail and wry humor, Chiusano fillets his subject. The Fabulist is an amalgam of dish and supporting receipts, an ideal stocking stuffer for political junkies and voyeurs. This is a book Santos never wanted published. Truly."
—The Guardian

"The deceits, frauds, and unlikely triumphs of the Republican congressman from New York are untangled in this labyrinthine exposé. . . . Combining punchy reportage with thoughtful analysis, Chiusano's richly textured profile makes Santos into a fitting embodiment of today's declining public faith in politics."
—Publishers Weekly

"Dogged reporting. . . . As if channeling Herman Melville's novel The Confidence-Man, Chiusano suggests that America is a nation of wolves and sheep, where the wolves always win. . . . In a well-researched book, Chiusano offers fair warning to anyone who might consider voting for his con man subject."
—Kirkus

"An essential read for those seeking to understand the complex tapestry of truth and fabrication that defines the American political landscape in the age of George Santos. . . Chiusano's work goes beyond the spectacle of Santos's alleged misdeeds, and his insights into Santos's psyche and the implications of his actions extend beyond mere political critique."
—The Advocate