Back to top
Arkansas Made, Volume 1: A Survey of the Decorative, Mechanical, and Fine Arts Produced in Arkansas through 1950 (Hardcover)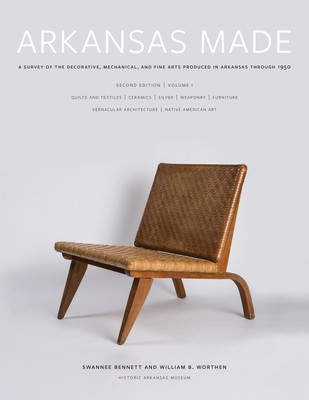 $39.95
Call to check availability
Description
---
Arkansas Made is the culmination of Historic Arkansas Museum's exhaustive investigations into the history of the state's material culture. Decades of meticulous research have resulted in this exciting two-volume survey of cabinetmakers, silversmiths, potters, fine artists, quilters, and other artisans working in communities all over the state.
The work of the artisans documented here has been the driving force of Historic Arkansas Museum's mission to collect and preserve Arkansas's creative legacy and rich artistic traditions. Artisans from across Arkansas's rich cultural landscape come to life among the colorful quilts, playful temperance jugs, and inventive effigies included in Volume I. Readers will delight not only in the striking full-color images but also in the stories that weave them together across time and region to create a lively picture of art and artisanship in a state too little celebrated for its creative output.
Volume 1
Quilts and Textiles • Ceramics • Silver •Weaponry • Furniture • Vernacular Architecture • Native American Art  
About the Author
---
Swannee Bennett retired as director of Historic Arkansas Museum in 2020 after a career at the museum spanning thirty-eight years.
William B. Worthen retired as director of Historic Arkansas Museum in 2016 after a fortyfour- year career at the museum.