Back to top
Gray Fox in the Moonlight (Hardcover)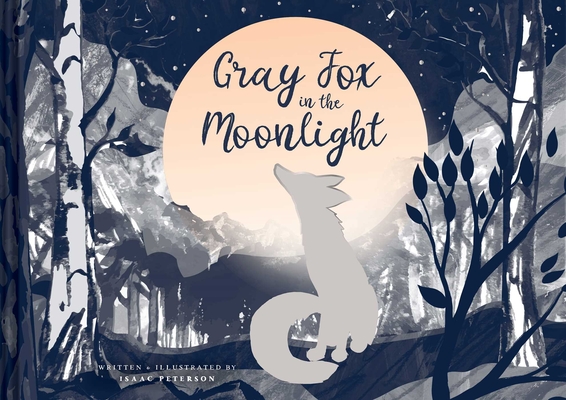 $17.95

Usually Ships in 1-5 Days
Description
---
Gray Fox in the Moonlight features simple two color illustrations overflowing with light in this evergreen story about a parent's love for their child. 

Gray Fox wanders alone in the forest at night. The woods are illuminated in the silvery light of the full moon and stars. She gazes around in wonder at the light in the birch grove and stops to look at her reflection in the river. But something calls to her in her reverie. She must return to her den by dawn to care for her kits when they wake. With simple poetry young children will love, Gray Fox in the Moonlight is a journey through a nighttime wonderland that celebrates the love between parents and children. It illustrates the value of independence in the parental relationship as well as the powerful bond which calls us home from wandering. Gray Fox in the Moonlight revels in the profound beauty of nature.
About the Author
---
Isaac Peterson is a fine artist and designer who grew up in Alaska. This book is inspired by one of his earliest memories: cross-country skiing to school in Fairbanks during the part of winter when it is completely dark. Isaac has taught art extensively all over the US. Isaac lives in Bend, Oregon with his family.
Praise For…
---
"STARRED REVIEW! This work's spare text is chosen with expert precision so that the few words have maximum impact. The text's placement echoes the movement it depicts, making this book rife with early literacy opportunities. The monochromatism of the austere, gray tones doesn't want for detail and depth. Peterson's shifts in perspectives throughout create a sense of movement and heighten the immersive aspects of his illustrative style. Somber, contemplative works are often dense with text, whereas this book needs not one breath more for its perfect autumn and ­winter message." —School Library Journal

"The text matches the fox's steps so perfectly that readers may feel as though they're following her home through the woods. But then, that's the entirety of the story: Gray Fox goes home to her children and falls asleep. There's no drama here, but if the story were any less spare, readers might not stop to see the wonders along the way." —Kirkus Reviews