Back to top
Daniels' Running Formula (Paperback)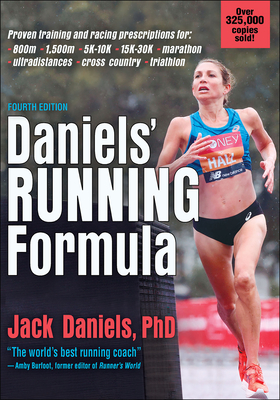 $24.95

Usually Ships in 1-5 Days
Description
---
Train for your next race with the man who has been called "the world's best running coach." With more than 55 years of experience, Jack Daniels is a legendary figure in the running community. Named the National Coach of the Year by the NCAA and honored as the Division III Women's Cross Country Coach of the Century, Daniels has mentored some of the greatest names in running, including Jim Ryun, Ken Martin, Jerry Lawson, Alicia Shay, Peter Gilmore, Magdalena Lewy-Boulet, and Janet Cherobon-Bawcom. In Daniels' Running Formula, he has shared training advice with hundreds of thousands of runners. Now in this updated—and definitive—fourth edition, he again refines his methods and strategies to help you run faster and stronger.

Building upon his revolutionary VDOT system, Daniels incorporates new insights gained from studying participants in his unique Run SMART Project. You'll be guided through the components that make the training formula work and then learn different types of training—including treadmill training, fitness training, and training at altitude or in other challenging environments—along with age-related modifications for runners from ages 6 to 80.

Everything comes together with expert advice on event-specific training ranging—for runs ranging from 800 meters to ultradistance events and triathlons. You will find advice on setting up your own seasonal plan, or you can follow one of Daniels' 31 proven training plans and workouts. You'll even find four fitness running plans, from novice level to elite level, to get in shape or regain conditioning after injury.

Join the thousands of runners who have relied on Jack Daniels to help them reach their peak running performance. Using the programs outlined in Daniels' Running Formula, you too can achieve the results you seek every time you train and race.
About the Author
---
Jack Daniels has been called the world's best running coach. He has more than 55 years of experience coaching and mentoring some of world's top distance runners at both the collegiate and postcollegiate levels, including Jim Ryun, Penny Werthner, Ken Martin, Jerry Lawson, Alicia Shay, Peter Gilmore, Lisa Martin, Magdalena Lewy-Boulet, Anthony "Fam" Famiglietti, and Janet Cherobon-Bawcom. An elite athlete himself, he won two Olympic medals and one world championship medal in the men's modern pentathlon.

Daniels has decades of experience as a track and cross country coach at institutions such as Oklahoma City University, the University of Texas, Brevard College, and the State University of New York at Cortland. Under his guidance, Cortland runners won eight NCAA Division III team national championships, 30 individual national titles, and more than 130 All-America awards. He was named NCAA Division III Women's Cross Country Coach of the 20th Century.

For a number of years, Daniels was the national running coach advisor for the Leukemia/Lymphoma Society's Team in Training program, which involved coaching thousands of marathon runners each year. He also enjoyed coaching members of the Nike Farm Team and the Chasquis, a group of Peruvian marathoners.

Daniels has logged years of graduate study and research on distance running in both the United States and Sweden. He holds a doctoral degree in physical education and physiology from the University of Wisconsin at Madison, and he studied exercise science at the Royal Gymnastics Central Institute in Stockholm under renowned sport scientist Per-Olof Åstrand. He was also an associate professor in the human movement program at A.T. Still University in Mesa, Arizona, in addition to coaching Olympic runners.

Of all his accomplishments, Daniels is most proud of his two daughters and being married to his wife, Nancy.
Praise For…
---
"During my tenure as editor of Runner's World, I named Jack Daniels the 'World's Best Running Coach,' and 20 years later that remains true."
—Amby Burfoot, 1968 Boston Marathon Winner and Former Editor of Runner's World