Back to top
LEGO Space Projects: 52 Creative Models (Paperback)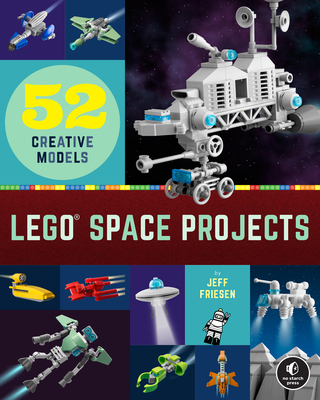 $19.99
Call to check availability
Description
---
Build 52 galaxy-hopping LEGO spacecraft that can fit in the palm of your hand! Complete with step-by-step instructions and stunning full-color photography.

LEGO Space Projects rocket right past the standard science-fiction tropes, taking you to the edge of galactic design. The models in this book are built for enlightened celestial ambitions, like botanical research, comet mining, solar sailing, and experimental drive testing.

Get inspired by real-life spacecraft as you transform a handful of bricks into NASA-grade propulsion systems, heat shields, and solar collectors. Or let your imagination soar as you snap together an explorer mecha with maneuvering thrusters and hypersonic Cloud Skimmer.

LEGO fans of all skills and ages will have a blast building dozens of cleverly styled models, from sleek to comical, from retro to futuristic, from space stations to flying saucers—and beyond.

Projects range from 8 bricks to 100, and are brought to life by stunning full-color photography, witty descriptions, and detailed technical specs. Build them using the book's clear, step-by-step instructions, or use the techniques as a launchpad for your own designs!

About the Author
---
Jeff Friesen is an award-winning LEGO expert and photographer whose work has been featured on the Brothers Brick website and in Brick Journal and Blocks magazines. In addition to LEGO Space Projects, he is the author of LEGO Micro Cities and The LEGO Castle Book (both No Starch Press). Much of Friesen's stunning LEGO photography can be found on his Instagram account, @jeff_works, and his LEGO builds have been featured on LEGO's official social media channels.
Praise For…
---
"A pretty nice introduction to building microscale space, and for those new to the hobby, getting started in finding and ordering parts . . the small scale allows for a multitude of variety with ship styles that are defined in the book. Friesen has a lot to talk about in terms of the theme and building, and he does so with a voice that is slightly reminiscent of the Hitchhiker's Guide to the Galaxy. Expect some humor in the book."
—Joe Meno, Brick Journal

"The images are clear, as are the instructions . . . If you are interested in microscale spacecraft, either for the Neat Parts Usage, to create a small armada with the parts at hand, or you just love looking at beautifully rendered images of creatively designed LEGO models, you would be well advised to look at this book."
—The Rambling Brick

"A great addition to Jeff Friesen's collection . . . I highly recommend picking this book up if you're a LEGO Space fan, a micro-scale LEGO builder, or you really enjoy some awesome LEGO models."
—Adam's Brick Junction

"Oozes quality and inspiration . . . I enjoyed this immensly."
—GJBricks, YouTuber

"Anyone who loves spaceships and wants to learn to build them in a greeble style at microscale should pick up LEGO Space Projects: 52 Creative Models. It is a great resource for learning how to build big while building small spaceships."
—JustJon.net

"LEGO Space Projects is a must-have for any LEGO enthusiast . . . If you want a challenge or love space, you'll find many space projects that are recognizable and enjoyable to build in this book."
—Rachel Dehning, Portland Book Review