Back to top
Permanent Revolution: Essays (Paperback)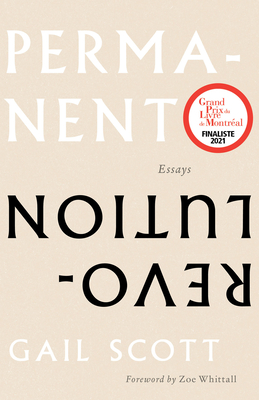 Description
---
"A writer may do as she pleases with her epoch. Except ignore it."
From iconic feminist writer Gail Scott comes Permanent Revolution, a collection of new essays gathered alongside a recreation of her groundbreaking text, Spaces Like Stairs. In conversation with other writers working in queer/feminist avant-garde trajectories, including l'?criture-au-f?minin in Qu?bec and continental New Narrative, these essays provide an evolutionary snapshot of Scott's ongoing prose experiment that hinges the matter of writing to ongoing social upheaval. Scott herself points to the heart of this book, writing, "Where there is no emergency, there is likely no real experiment."
With a Foreword by Zoe Whittall and an Afterword by Margaret Christakos.
Praise for Permanent Revolution
"At once erudite and intimate, Permanent Revolution is a vital set of meditations on difficulty and feminist art. Gail Scott convincingly and beautifully evokes feminism as an ongoing experimental practice: courageous, expansive, and necessary to all." --Anne Boyer, author of The Undying, Winner of the Pulitzer Prize for Nonfiction
"Permanent Revolution is written in the gap between what a novel could have been and what is possible now, and that's a kind of grammar. Reading these essays, I felt the part of me that never writes, but longs to, come back to life for a few moments and/or forever." --Bhanu Kapil
"I can still remember the thrill of first entering the space of Gail Scott's novel, My Paris, a diary written all in present participles, the way I stumbled along the sentences as if around a city. In these essays, we get to travel through Scott's thinking through narrative, gender and queer aesthetics, from philosophizing her own experiments in prose to being in conversation with the ?criture feminine of friends, from Nicole Brossard's Mauve Desert to New Narrative. She also writes through her literary foremothers, from Kathy Acker through the trilogy of the "masturbating French dykes" (ha ) (Irigaray, Cixous, Wittig) to Marguerite Duras. It was Duras's nonfiction I thought about when reading Permanent Revolution--profound and poetic, enacting the urgency of literature amidst the emergencies of now." --Kate Zambreno, author of Heroines and Drifts
About the Author
---
Gail Scott is the author of Spare Parts (1981), Heroine (1987, re-issued in 2019 with an introduction by Eileen Myles), Main Brides (1993), My Paris (1999), Spare Parts Plus Two (2002), and The Obituary (2010). Her essays are collected in Spaces Like Stairs (1989) and in La Th?orie, un dimanche (1988) which was translated into English as Theory, A Sunday (2013). Scott is co-editor of the New Narrative anthology: Biting the Error: Writers Explore Narrative (2004). Her translation of Michael Delisle's Le d?sarroi du matelot was shortlisted for a 2001 Governor General's Literary Award. A memoir, based in Lower Manhattan during the early Obama years, is forthcoming. Scott lives in Montr?al.