Back to top
The Illustrated Easy Way to Stop Smoking (Allen Carr's Easyway #13) (Paperback)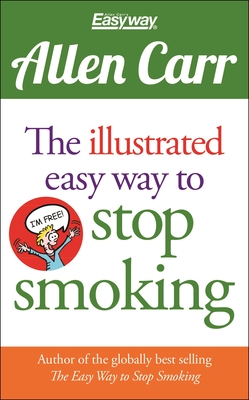 $7.99

Usually Ships in 1-5 Days
Description
---
READ THIS BOOK, FOLLOW THE INSTRUCTIONS AND STOP SMOKING NOW.
In
The Illustrated Easy Way to Stop Smoking
, Allen Carr debunks the myths about smoking and shows you the way to beat your addiction. With the brilliant illustrations of Bev Aisbett, Carr's globally best-selling method is presented here in a truly refreshing, accessible, dynamic, funny and enjoyable way.
Allen Carr has helped cure millions of smokers worldwide and he can do the same for you.
His books have sold over 15 million copies worldwide, and read by an estimated 40 million people, while countless more have been helped to quit through his network of clinics. This phenomenal success has been achieved not through advertising or marketing but through the personal recommendations of the ex-smokers who've quit with the method. Allen Carr's Easyway has spread all over the world for one reason alone:
BECAUSE IT WORKS
.
What people say about Allen Carr's Easyway method:

"I stopped smoking... I read this book by Allen Carr. It's called the
Easy Way to Stop Smoking
. Everyone who reads this book stops smoking "
Ellen DeGeneres
"The Allen Carr program was nothing short of a miracle."
Anjelica Huston
"It was such a revelation that instantly I was freed from my addiction."
Sir Anthony Hopkins
"His skill is in removing the psychological dependence."
The Sunday Times
About the Author
---
Allen Carr (1934-2006) was a chain-smoker for over 30 years. In 1983, after countless failed attempts to quit, he went from 100 cigarettes a day to zero without suffering withdrawal pangs, without using willpower and without putting on weight. He realised that he had discovered what the world had been waiting for - the Easy Way to Stop Smoking, and embarked on a mission to help cure the world's smokers.