Back to top
Woody Guthrie: Songs and Art * Words and Wisdom (Hardcover)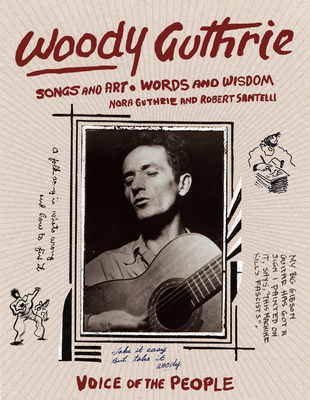 $40.00

Usually Ships in 1-5 Days
Description
---
The timely, passionate, and humanely political work of America's greatest folk singer and songwriter is presented through his own words and art—curated by Woody's daughter—in this essential self-portrait, including never-before published lyrics and personal writing, and testimony from contemporary writers and musicians on his powerful relevance today.

Woody Guthrie and his passionate social politics are as crucial today as they have ever been. A powerful voice for justice, and the author of more than 3,000 songs (including "This Land is Your Land"), he was also a poet, painter, illustrator, novelist, journal keeper, and profuse letter writer. Curated by his daughter Nora and award-winning music historian Robert Santelli, this fresh, intimate, and beautifully designed book thematically reveals Woody's story through his own personal writings, lyrics, and artwork, urgently bringing his voice to life.

Featuring never-before-published lyrics to some of his greatest songs, personal diary entries, doodles, quips and jokes, and piercing insights on his politics and justice, this is an undeniable and important celebration of Woody's vibrant life's work. Created to be enjoyed by all – those interested in folk music or those interested in Woody's thoughts on Life in all its aspects, from Politics and Spirituality, to Love and Family – this book reflects Bob Dylan's thoughts on Woody Guthrie; "You can listen to his songs and learn how to live."

ONE OF THE MOST INFLUENTIAL SONGWRITERS IN AMERICAN MUSIC HISTORY: Woody Guthrie has had a profound impact on American musicians, writers, politicians (and the everyman who found solace and kinship in Guthrie's writings and political beliefs), who have been shaped by his music and activism—namely the great founding father of songwriting himself, Bob Dylan, for whom he was a mentor. Others who have named Guthrie as a major influence include Bruce Springsteen, Johnny Cash, Pete Seeger, John Mellencamp, Billy Bragg, Joe Strummer, and Jerry Garcia, just to name a few.

RARE ARCHIVAL MATERIAL: This is Woody's life told primarily in his own words, with never-before published handwritten lyrics, artwork, journals, and much more.

WORDS OF WISDOM RELEVANT TODAY: Woody Guthrie's lyrics and writings carry pointed relevance to our world today—he wrote powerfully about economic inequality, immigration reform, fascism, war, corruption from capitalism gone wild, patriotism, and environmentalism—not to mention spirituality of all kinds, love, and family.

EXCLUSIVE CONTRIBUTORS: Includes new writing about Woody and his music by Chuck D., Ani DiFranco, Douglas Brinkley, Jeff Daniels, Arlo Guthrie, and Rosanne Cash.

Perfect for:

• Music lovers
• Musicians and artists
• Political activists and historians
• Fans of Americana
About the Author
---
Robert Santelli is the Founding Executive Director of the GRAMMY Museum in Los Angeles and the author of more than a dozen books on American music. He also developed the Tulsa-based Woody Guthrie Center with Nora Guthrie and was VP of Education and Public Programs at the Rock & Roll Hall of Fame and Museum in Cleveland.

Nora Guthrie is the daughter of Woody Guthrie and president of Woody Guthrie Publications. She served as president of the Woody Guthrie Foundation for over 30 years, founded the Woody Guthrie Archive in 1992, and the Woody Guthrie Center in Tulsa, OK in 2013. She is the executive producer of numerous Grammy award winning albums recording hundreds of her father's previously unknown lyrics. She lives in NY State.
Praise For…
---
"Through Nora's careful, mindful curation, we get to see that not only was Guthrie an exquisite songwriter, but also a committed citizen, a consumed intellectual, a well-rounded artist of all forms, and a remarkable man fascinated by the culture and dynamics of a certain era of the 20th Century."
— Folk Alley
"This is an undeniable and important celebration of Woody's vibrant life's work."
— Eric Alper