Back to top
A step by step guide for Bitcoin beginners and experts: The best book on bitcoin investments. An absolute guide for beginners and experts of the crypt (Paperback)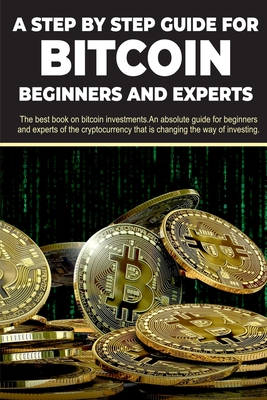 $25.00
Email or call for price.
Description
---
Do you want to get started in Bitcoin? Do you want to take advantage of the potential investment returns in bitcoin? If so, you can't afford to miss this...
I wrote this step-by-step book for those who want to get started investing Bitcoin. In this book, you will learn the exact steps how to get started investing in Bitcoin and other cryptocurrencies. Here are just a few of the strategies you'll learn in this one-of-a-kind book:
How to open an account to invest
The best place to open a Bitcoin account
How to buy your first Bitcoin
How to keep you Bitcoins safe
Why you should buy Bitcoin
How to create a Bitcoin investment plan
How to create the best portfolio allocation for you and your family
How to invest without emotion and make consistent returns
The #1 reason bitcoin investors lose money
And Much More...
Why listen to what I have to say?
That is a great question. Sadly, most of the books written about Bitcoin and cryptocurrencies are written by people who do not know very much about investing and Bitcoin. They don't have a finance degree, haven't been an investment advisor or even owned a full Bitcoin themselves. That is the sad truth.
So why should you listen to me and get a copy of my book today?
That is a fair question...
You see, prior to getting involved in blockchain and fintech in 2013, I spent 15 years as a Registered Investment Advisor (RIA), Series 7 stockbroker and mutual fund wholesaler. I have worked with and had one-on-one discussions with some of the top money managers in the industry including Louis Navellier, Bill Gross from Pimco, money managers at State Street Global, Blackrock, Fidelity, the Bank of New York Mellon and many others.
I also worked with high networth individuals and professional sports players and created multi-generational wealth portfolios as well as current income strategies.
I am also an advisor and equity investor to a Canadian-based Bitcoin and digital asset start-up company.
You will learn the very same strategies and techniques that have made me and my clients a lot of money. But most importantly, you'll learn strategies that you can use immediately to get started with Bitcoin. You'll learn how to build and secure a solid financial future for you and your family.