Back to top
Quantum Physics for Beginners: All the secrets of quantum experiments, entanglement, theory of relativity and law of attraction (Paperback)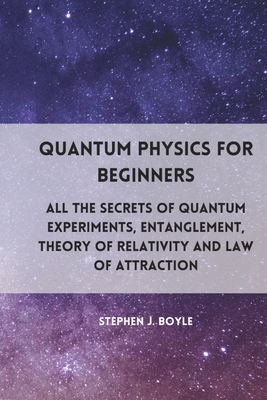 $23.90
Email or call for price.
Description
---
Quantum Physics for Beginners
Do you hear people talking about quantum physics, and are you wondering what it is? Would you wish to explore more in-depth insights on how the universe and our planet runs? If your answer to these questions is yes, then you've come to the right place
It is time for you to understand the ultimate secrets of Quantum Physics even without any prior scientific knowledge
For many individuals who are not fond of science, quantum physics might sound like magical terms that only professional scientists can access. However, in reality, that is far from reality. You don't need to have any scientific expertise or skills to understand what quantum physics is all about. This book Quantum Physics for Beginners: All the Secrets of Quantum Experiments and Entanglement, Theory Of Relativity And Law Of Attraction, will offer you a basic introduction and more advanced details about this subject.
You don't need to have a scientific background to learn and understand this book. You can have zero prior knowledge and still be able to jump into this important topic.
Here is a quick overview of what you will find inside this guide:
- Quantum physics main elements
- Quantum physics, health, and reality
- String theory and the theory of everything
- How black holes work
- Practical applications of quantum theory
- The law of attraction
... And much, much more